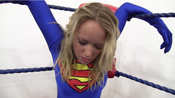 Sleeperkid has made available several new superheroine themed videos as part of the latest SleeperkidsWorld update. Performers include Jaquelyn Velvets, Lucky O'Shea, Jinx, Alisa Farrington, and more. Check out information and images from all four new videos below!
SUPER-SQUEEZE: Episode Four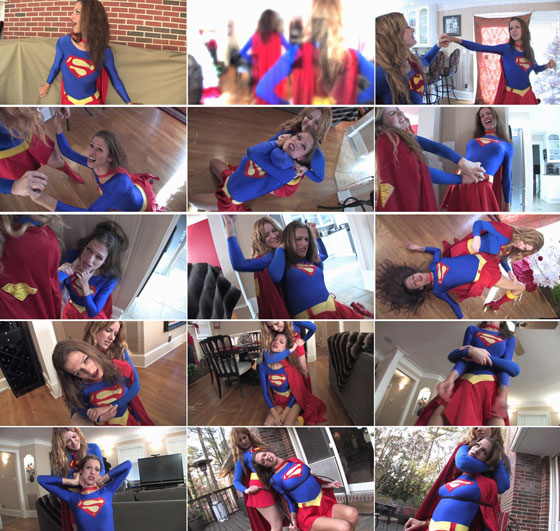 In the fourth installment of the already popular "SQUEEZE" series, Kelly plays a Super-Wannabe who answers a distress call. Ater breaking into the target's home, she runs in…looking for the "little girl" that's supposed to be trapped inside.
A sudden flash of light signals the arrival of SUPER-JACQUELYN…who not only happens to be the real deal, but she also orchestrated the "little girl" distress2 call in order to trap the fake heroine! Kelly is enraged at the ruse and attacks, but a quick and painful tests of strength drives her to her knees! A sudden straight jacket choke quickly sends Kelly into an eyerolling KO…and thus Super-Jacquelyn's lesson begins! The torment ends with an outdoor sleeper hold, but there's SO much more that comes before it. It's safe to say that Kelly will NEVER pretend to be someone she isn't in the near future!
Purchase Super-Squeeze at SleeperkidsWorld
BECCA'S SUPER DEMISE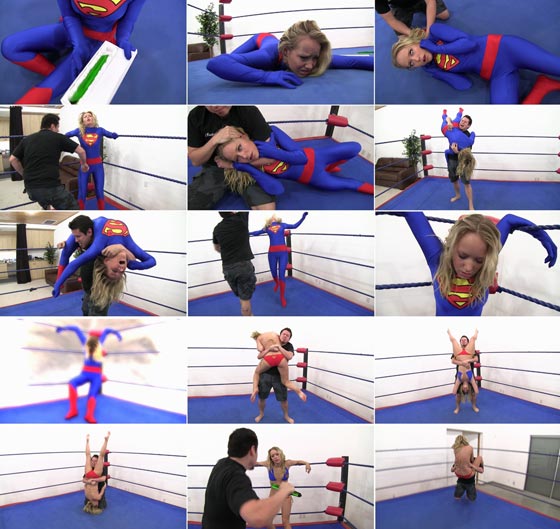 An unconscious Becca, dressed in her best super body suit, decorates a wrestling ring as we fade in on one HELL of a superheroine takedown. She awakens…only to hear a rival's voice filling the room. She discovers a case next to her and opens it…only to find a green crystal inside that quickly saps her strength. She tries to crawl away but it's too late…soon enough she collapses, unconscious yet again.
Moments later we see the villainess' top henchman (SK) waiting for Becca to awaken. The lovely blonde comes to, only to experience the full extent of SK's wrath! Not only does the Kid wipe the mats with the weakened heroine, his boss forces her to suddenly transform into a "bikini" version of her suit halfway through the destruction! Seriously: fans of superheroines in wrestling peril: This one is BOUND to make your top 10 list!
Purchase Becca's Super Demise at SleeperkidsWorld
PAJAMA KO PARTY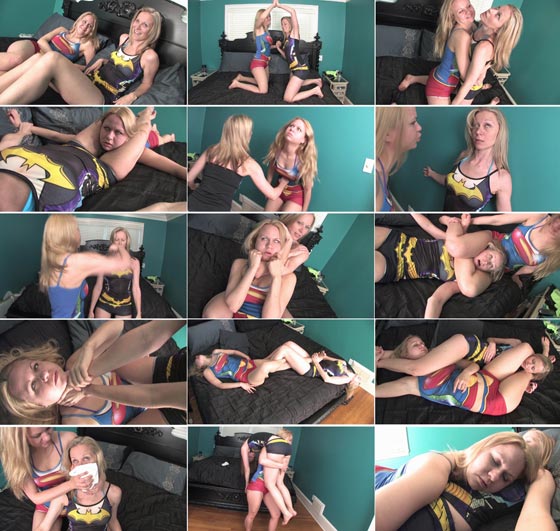 After a long day of crime fighting, Super-Alisa and Bat-Serena decide to have a pajama party. After watching a video by some new company called Sleeperkid's World, Serena gets inspired and challenges Alisa to a friendly bedroom battle. Alisa explains that she's a TAD more powerful than Serena, being that Batgirl is a mere mortal. Serena smiles and says she's been 5 steps ahead of Alisa this whole time…and has hidden a tiny piece of kryptonite in the room to make things even.
Alisa is impressed…and agrees to the challenge. They decide to go for multiple rounds, with each one ending in a KO…and a test of strength starts it all off. Alisa takes an early lead with a sudden bearhug, squeezing Serena until she goes night night. Alisa then goes for a pin, sparking off a series of back and forth KOs that end with a sneaky Bat-Serena's sleeping gas filling the room.
Purchase Pajama KO Party at SleeperkidsWorld
LUCKY gets JINXED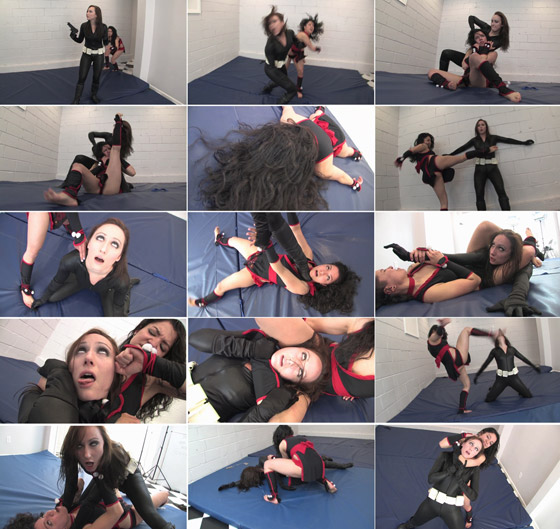 LUCKY O'SHEA and JINX square off in this amazing custom clip, featuring O'Shea as an agent hot on the tail of a ruthless assassin (Jinx). Lucky makes her way to Jinx's hideout, only to get sneak attacked by the well-trained villainess. The battle that ensues is epic, intense, and jam-packed with reversals…though in the end it's JINX who takes control and dominates the outmatched agent! A final necksnap and body drag ends it all for the UN-lucky O'Shea, but not before the sounds of chokes, fisticuffs, and more pollute Jinx's well-defended lair!
Purchase Lucky Gets Jinxed at SleeperkidsWorld