Amy Johnston in "Zombie Killers" (Complete Film)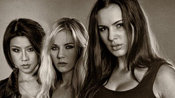 We rarely, if ever, have political, philosophical or theological debates around here, but I think my next question may start our first: Does the existence of Amy Johnston prove there's a higher power, or is she hard evidence in support of the theory of evolution? 
I ask because having someone be at the same time ridiculously good looking and also one of the best martial artists walking the planet is surely a sign that we are evolving as a species. On the other hand, someone blessed with so much talent hints that a higher being took a lot of interest in her creation. I know it's one or the other; I'm just not sure which.
Did I go to far there? Maybe. It's just my way of making the point that Amy Johnston is awesome. For those of you who don't know the name, go to YouTube and do a search. You can thank me later. I would especially pay attention to the short film work she has done with another awesome talent named Anna Ranoso. These two work exceedingly well together, and of the dozens of martial artists that I have become a fan of, both male and female, these two are my absolute favorites.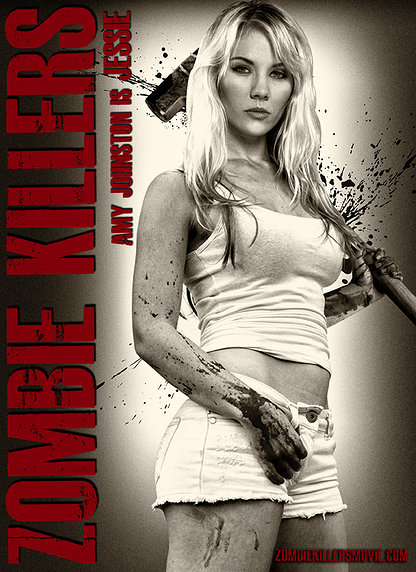 Accompanying Amy in this film are two other beautiful and talented actresses: Eve Mauro and Aoni Ma. I wish I could tell you more about them, but this is the only film I have seen them in. Nonetheless, they are superb here, and I look forward to seeing more from them.
The film is only a little over four minutes long, and it's free, so just take my advice and watch it. In short, three beautiful girls take down a zombie, and then Eric Roberts shows up. Yes, the Eric Roberts you are thinking of. There is a lot of blood and gore involved in the fight scene so just be wary if that kind of thing turns you off. It's really a well done short and all involved deserve credit for what I thought was an amazing final product.
I do have one critique. For about half the film, Amy kind of serves as the comic relief as she comforts the zombie's mother. Understand, she does it very well, and she has become as good an actress as she is a martial artist. But when you have Amy Johnston as part of your cast, you don't sideline her. You unleash her. This is a message for all producers that cast her in the future. When you have a world-class martial artist at your disposal, use her talents as much as possible.
And there you have it. HM always likes to serve up something different for his readers, and it's just a bonus that it's free. Also note that there should be more Amy coming soon as a trailer for her Clandestine series is on its way. I expect it to be great because the editing process is seemingly taking as much time as James Cameron spent on Avatar. Good things come to those who wait I suppose.
Visit zombiekillersmovie.com for more info!