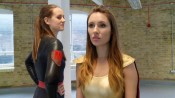 Athena v Eliza Rose: Personal Hell is the latest release from Next Global Crisis and features a fight that takes place in two different realities. Enjoy my review, along with the trailer and images below (and be sure to join Next Global Crisis' Discounts List right here).
[Beware spoilers] Athena shows up and finds Eliza Rose peacefully meditating. She approaches Eliza who suddenly opens her eyes and touches Athena's forehead which has the effect or transporting Athena's consciousness to another place where Eliza is in complete control.
Eliza demonstrates her virtual omnipotence in this world by simply snapping her fingers which outfits Athena in Bluebird's original costume, black boots and all. The film then makes several cuts between the real world and Athena's "personal hell" so for the sake of simplicity, we'll break down what happens in each world individually.
In the real world – With Athena still in her original outfit and backed against a pillar, Eliza lands over two dozen consecutive stomach punches. She then places Athena in a modified type of camel clutch which causes Athena a great amount of lower back pain in her nightmare world. Eliza then two hand chokes Athena from behind, but again, you mostly see the effects of this hold in the other world. Eliza then kicks Athena square in the face, which drops the goddess to the floor.
Athena's personal hell – In the Bluebird outfit, Athena attacks, landing a barrage of face punches and some knee lifts until she is frozen in place by a single word from Eliza. Eliza frees Athena who promptly hits Eliza with a backhand and a kick to the stomach, but she just gets frozen in place again by a simple gesture. Eliza scores a hard knee lift to Athena's jaw and a powerful kick to the face which floors Athena.
It's at this point the story diverges into two possible endings. One where Eliza wins, and another where Athena emerges victorious.
There were two personal highlights for me in this video. The first was Eliza's continuing obsession with everything Bluebird which is always fun to watch. The second was Athena in Bluebird's original outfit. Wow! Does she wear it well. I know special circumstances have to exist for the ladies of NGC to appear in someone else's costume, but I would have no problem with it happening more often, especially in these non-canon stories.
Lastly, one quick note on this video. In the real world, Athena's reactions to the punishment she takes is very subtle. Remember, her mind is in another place so she is subdued here, with her eyes showing the pain she is in more than anything else. Since reactions shots are a big point of interest for fans, I wanted to be as clear as possible here. Hope you enjoy the video.