New Concept and Request (from Actress Cayla) from Heroine Legends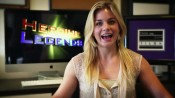 Here's an interesting new concept from Heroine Legends involving actress requests, fan input, a Kickstarter campaign, and a "Community Custom Videos" concept. Get the details straight from a Heroine Legends actress—in this case Cayla, the actress who plays Allura.
Message from Heroine Legends
Our actresses over here at "Heroine Legends" have been getting extremely involved with the entire superhero/superheroine universe and the requests of our fans… so much so that they have begun revealing their own requests. They range anywhere from situations to locations to weapons to wardrobe, etc– to the point where they are practically internal custom requests!
We have found that a lot of the requests we have been getting from our fans actually align with the ones our actresses have been requesting! This couples along with an idea we had a few months back of creating what we would call "Community Custom Videos"– basically, instead of one person fronting the production costs for a custom film, a group of people contribute to a similar idea and the cost per person is much lower! Then they, of course, get their copy and some goodies with it– the fans who contribute more, whilst being completely fair, get more incentives from it!
This concept isn't really new– it's what the Kickstarter program is all about. Crowd-funding for a similar goal or desire… so we decided to adopt it because it's a win-win for our FANS and for our ACTRESSES!!! Our actresses WANT to film more and they want to try out new ideas– many have asked to become more involved, so here is the 1st request we will put up for you – from Cayla (the actress who plays Allura) – and her request for you!
Once we reach the funding goal for her project, we will film it and begin campaigning for a 2nd actress! This is where the Superheroine community has the opportunity to be really involved and get the benefits of a custom order for a lot less than the actual production costs for a normal custom.
The best part is that this allows supplemental funding for the project so we can make it the length we want to make it and focus on the things you guys want whether it's camera angles, situations, costumes… anything!!– and the contributors will have the option to help us mold the film as a whole!!
We look forward to seeing the success of this project type within the "Heroine Legends" universe– take a look at the video to hear Cayla's (Allura's) request and visit our site (http://www.HeroineLegends.com) for more info and to be a part of this awesome, actress-inspired and requested idea!!