"The Assassin's Lesson" from Catfight Fantasies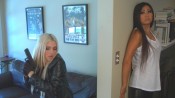 [Adults only] Here's a peak at a new video from Catfight Fantasies. I always enjoy a good "spygirl" video in the heroine peril genre, and this looks two feature lots of girl-on-girl fighting and sexual humiliation. Christie Stevens and Nicole Oring star. Check out the trailer and images below!
"The Assassin's Lesson"
Starring Christie Stevens and Nicole Oring!
Christie is a highly trained assassin, out on one of her first missions. The target: Nicole. Little does Christie realize, though, that Nicole is even MORE highly trained than she is! The two warriors struggle over a weapon and end up in a back and forth kung fu battle! They even engage in a lengthy fingerlock test of strength to find out who's stronger! But soon, it's clear that Nicole is the better of the two, as she pummels Christie with breast claws, kicks, and blows to her belly, kidneys, and face! A vicious kick to the face leaves Christie totally helpless, and Nicole takes advantage of this opportunity to teach Christie a lesson in humiliation! She strips Christie down to her panties and viciously gropes her naked breasts, and then bends her over the couch for a nice long humiliating spanking! Then Christie is forced to orgasm by Nicole's expert hand on her pussy! This is definitely one lesson that Christie will NEVER forget!

Watch in 720 for best quality