"Wonder Dame vs. The Wolf" from Superheroine World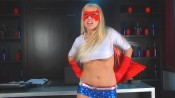 [Adults only] Check out the trailer, synopsis, and tons of pics from the new Superheroine World video, Wonder Dame vs. The Wolf, featuring Christie Stevens, Jessica Ryan, Paris Kennedy and the always-dastardly Wolf Hudson!

[Watch in 720 for best quality]
Superheroine World Issue 28: "Wonder Dame vs. The Wolf!"
Starring Christie Stevens, Wolf Hudson, Jessica Ryan, and Paris Kennedy!
Christie is a reporter whose editor in chief, Jessica, is very pleased with all the exclusive interviews she's been getting with the famous superheroine, Wonder Dame. Little does Jessica know that Christie IS Wonder Dame herself! And so when the evil villain known as The Wolf kidnaps Jessica, thinking she has the inside scoop on Wonder Dame, Christie transforms and rushes to her rescue!
The Wolf pumps Jessica for information–figuratively and literally–smacking her around and ravishing her, and finally using his special mind control powers on her. He is then joined by Scarlet Gunns, and the two of them gang up on the helpless Jessica and humiliate her sexually!
Finally Wonder Dame locates The Wolf's hideout, and the battle is on! Wonder Dame seems to be winning the day, even after suffering a beatdown at the hands of the Wolf, when a cinder block crashed over her back turns the tide! Soon Wonder Dame is totally helpless, ravished, stripped, and subject to The Wolf's mind control!
Now totally under The Wolf's powers, both Wonder Dame and Jessica are forced to perform humiliating acts–expose their bodies, masturbate, allow themselves to be spanked…The Wolf even makes them get down on all fours and bark like dogs! Some fondling and nipple torture and then it's time to remove Wonder Dame's mask and expose her true identity!! Can Wonder Dame possibly live this humiliation down?!
30 minutes, MP4 format, only $24.95!