Christina Carter and Kobe Lee in "Dyna-Girl's Demise"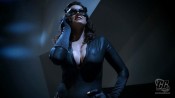 [Adults only] Christina Carter has released a new Catwoman-based video (co-starring Kobe Lee) called Dyna-Girl's Demise. When Dyna-Girl (Lee) makes the mistake of confronting Catwoman (Carter) without the assistance of Electra-Girl, things deteriorate rather quickly.
Synopsis
Catwoman, Christina Carter is up to her old tricks and has baited the young, innocent Dyna-Girl, Kobe Lee into her trap with the goalof stealing the Crime-scope computer . At the promise of a hot news scoop Judy aka Dyna-Girl is instructed to meet an informant at the Pier 69 warehouse.
She decides to go to the meeting alone and without the help of her crime stopping partner Electra-Woman. Catwoman is waiting and the fight is on! This clip contains: female domination, female fighting, low blows, damsel-in-distress, costume and pantyhose removal, arms over head restraint, choker hold, forced orgasm (clothed and nude), struggle and a ball gag.