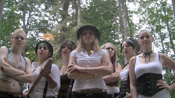 Gang Thang 3: Like Clockwork is now available here!
A new belly-punching-heavy custom video from steve noir is now available. Gang Thang 3: Like Clockwork features a vicious beatdown when our lovely heroine receives "the old surprise visit" from a deadly female gang.
Gang Thang 3: Like Clockwork
Innocent heroine Stella wakes up to the "old surprise visit" as Alexa and her Droogs go all Clockwork on her ass in this make-Stanley-Kubrick-spin-in-his-grave new video from steve noir—Gang Thang 3: Like Clockwork. Filled to the brim with 7-on-1, girls-on-girl mayhem, this video has all the fists, boots, knees and billy clubs to the belly that a fan could wish for, and this time they're all utilized for low blows as well. There is a helping of girl-gang-on-girl monkey business at the end, as Stella goes down in ignominious fashion one more time in this 18-minute beatdownathon.
-
-
Produced and Directed by steve noir • Running time: 18 Minutes • 495 MB • Format: .MP4