Superheroine Action Fight 1 – Night Darling Vs. Orange Avenger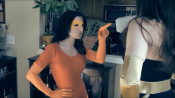 [Adults only] Remember Paladin City Adventures? It now has a new name, Superheroine Action Fight, and the company hopes the new name symbolizes a more action-oriented direction for its new videos, like Night Darling vs. Orange Avenger. Check out images and more info below.
Superheroine Action Fight 1 – Night Darling Vs. Orange Avenger
A new series begins with Angelique Kithos as Night Darling in a superheroine matchup against Hannah Perez as Orange Avenger. Bringing the two together is a mysterious item known as the Divine Hammer. Night Darling wants to take the item back to her Night Lair. Orange Avenger wants to take the item back to Avenging Ladies HQ's lab for research. There's fighting, sensual tension with a brief makeout between the two as this match gets personal. Will either superheroine be able to come out victorious or will the Divine Hammer choose a different fate altogether? Contains moments of nudity, g/g kissing, a wedgie, heroines kissing one another's breasts and also stripping one another out of their leotards.
Message from Superheroine Action Fight
Coming up in March I'm supposed to be shooting with Lakota Summers and Deanna Deadly. Anyone interested in a custom can PM me or email at paladincityadventures@gmail.com
Meanwhile, our store at Clips4Sale now has a new name, Superheroine Action Fight. Paladin City Adventures is being phased out in favor of this new identity in the hopes of focusing more on action/fight scenes. We'll still have some of the g/g kissing and so on, but the best bet if you're interested in that or especially the foot worship material will be to go the custom route. That way I can make sure I have a clip that's more precise to your liking and without the stuff you may consider, "filler."
With this new direction, a lot of the older stuff will be coming down soon and going into the Vault. Everything shot and released in 2009 (and on the old camera) will most likely be gone by the end of the month if not sooner, so anybody wanting to get any of that stuff may wish to act soon.
I'm really excited about making this new project work. The first SAF clip (Night Darling Vs. Orange Avenger) is already up and future clips should be longer, though if people turn out to be big fans of the quick fights/shorter clips we may go more with that.
As always, a big thanks to everyone who has purchased clips from Paladin City and here's to a more exciting future with Superheroine Action Fight!