Heroine Legends "Episode 2.3: Smackdown"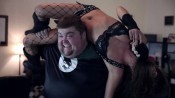 Heroine Legends continues what has thus far been an excellent second season with Episode 3: Smackdown. As Logan has mentioned a couple times, this episode was a custom request, but it's tailored to fit in the overarching Season 2 storyline.
The episode itself is less about story and more about fighting. There are actually two fights—the first is short and martial arts oriented. The second takes up the majority of the film and focuses much more on wrestling holds. Since there isn't any kind of game-changing story moment, we'll focus solely on the fights both, which feature Nightshadow versus a male opponent.
The first battle is Nightshadow vs Malek, and the fight opens with the Hunter landing a stomach punch. Nightshadow retaliates with a stomach punch of her own followed by Malek landing two more in response. Malek somehow makes the pipe that he used in his battle against Vega appear but Nightshadow is undetered and lifts him off the ground by his throat. Nightshadow remains pretty much in control until Malek uses the pipe and hits her with a low blow. The fight ends shortly thereafter as Malek quite literally swaps places with Amobea.
The fight between Nightshadow and Amobea is very one-sided as Amobea controls the action with his superior size and strength. His offense consists almost entirely of wrestling holds so in order, here's how the fight goes. Bear down, there is a lot here.
Nightshadow lands several kicks and punches with no effect, Amobea bitch slaps her a few times, wrenches her arm, picks her off the ground in a full nelson, puts her in a headlock, and slaps her in a frontal bearhug. She breaks the hold with a headbutt but Amobea returns the favor. He picks her up in a torture rack style backbreaker, drops her to the ground, and picks her up in the air by her waist and squeezes. There is a short pillow fight (not a typo) and Amobea powerbombs Nightshadow on a couch cushion.
Amobea stretches her out by pulling her hands behind her back and places her in a Boston Crab. Amobea continues the submission holds with a camel clutch and a crossface choke hold. Nightshodow gets a temporary reprieve when she lands a low blow and several powerful shots but just as quickly loses the advantage when Amobea lands a low blow of his own. Mercifuly, Amobea knocks her out with a series of punches and carries the heroine off over his shoulder.
There you have it. The focus of this film is combat, and the majority of the film is the heroine taking a severe beating through wrestling holds. If the above sounds good to you, check it out a the link below.
Notes from Heroine Legends
• There are 2 FREE wallpapers on the HeroineLegends.com homepage promoting the new "Excel" character personas.
• Cayla's (Allura) "Group Custom" funding ends in a few days so if you want to contribute for hers, you have only a few days left.
• Kristin's (Celestia) "Group Custom" will begin in a few days with a new contribution setup!
• 10-minute Personal Custom Orders are still on sale for $850 (flexibility required, negotiating available)
• Lady Wonder is coming soon!!