Heroine Legends Episode 2.2: "Nightmare"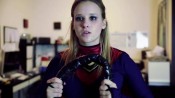 Heroine Legends has just released Nightmare, the second episode of Season 2, and the bottom line is that I just can't get enough of Vega. This is actually my first review for any film starring Vega (her first appearance was reviewed here), and I'm quite impressed.
For me, the actress that plays Vega, Talia Prairie, just has a superheroine look about her, and it's more than having a beautiful face and perfect body, although those certainly don't hurt. After just two appearances, she's become one of my favorite performers in the genre, and the good news is there seems to be a lot more of her coming soon. I think she handles herself as well as any other Heroine Legends actress in a fight scene, and that attribute is on full display in this video.
When the film begins, Angel, the civilian persona of Vega has an awkward conversation with her smitten roommate Charlie when Dragos shows up out of nowhere. This is probably the part where you say, "Hey, didn't Vega incinerate Dragos just a couple weeks ago?" Why, yes. Yes she did. This is the first clue that this is not only a heroine-in-peril film but also a heroine-in-mental-distress film.
Vega throws a punch that Dragos blocks, and he does what any villain would do in his situation. He gets a cheap feel. They then have a nicely choreographed fight where Dragos takes control by absorbing some of Vega's heat vision and channels it back at her. Charlie quickly comes in for the save with a gun and Dragos retreats.
Vega then grabs her head in pain, as if she is having a hallucination and suddenly finds herself looking up at the formidable presence of Diabla. Another good fight takes place and Diabla mostly holds the advantage. She drops Vega in a really well done backbreaker and grinds her boot into her back before disappearing.
Vega then looks up to find herself face-to-face with her third dance partner for the day, Malek. I don't know much about Malek, but I like the actor who portrays him. He's got his Batman voice going in this episode, and I thought he did a good job. I don't know if he has any powers but he carries around a big pipe and he engages Vega with it. Vega controls the majority of the action here, disarms Malek, and bends his pipe. (I swear I'm not trying to make this sound overtly sexual.) They then have a conversation that is heavy in exposition and I think it probably charts the course for future season two episodes.
This was a really nice video with three great fight scenes. It's not as fetish-heavy as Episode 2.1, but Vega is on the receiving end of choke holds, face and stomach punches, and the aforementioned backbreaker. There's also a couple of up-skirt shots for you up-skirt guys out there.
Now with the review out of the way, a couple questions for Logan some of which he may or may not be interested in answering at this time.
1. What is a Hunter?
2. Are Hunters imbued with Auras?
3. Is Vega a former hunter?
4. Do Vega's powers come from being imbued with an Aura or is she just naturally powerful?
5. What is The Resistance?
And that's it. I love Vega. I look forward to the premier of Dark Vega. And I wouldn't mind seeing my favorite characters Vega and Thorne in the same episode. Call it a request.