Heroine Legends' "The Demon Within" & New Heroine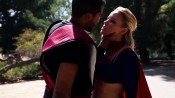 UPDATED! [Note: Below is a guest review by Jobber Lover] Let me start this review by saying this is a very enjoyable film. There's a lot to like here. I will my review on what I think people will really enjoy and then also try to mention a few ways that Heroine Legends may try to improve.
The Demon Within – Review by Jobber Lover
I've downloaded other Heroine Legends, and as with the other episodes I've seen, this episode is very high quality. It plays like a Sy-Fy Channel movie. It opens with a preview of the episode. Personally, I would have preferred to skip the preview as when I watch any movie, I try to avoid previews, but okay, there's a preview at the beginning. About 2:30, the movie starts with a cute couple (Mark and Suzanne) chatting in the park. Their conversation is cute, but goes on a bit long, especially since we know what's about to happen after having just seen the preview. Suzanne is very cute and pretty entertaining as well, especially when they stumble upon Vega.
The couple helps Vega disguise herself, and then Vega heads off. Six minutes in, and Allura, Fusion, and Decibel show up. This leads to the first of two fight scenes in the movie. The fight is well choreographed, but man, is Decibel's super power annoying. Fusion comments on this, and I have to agree with him. Although the fight is well choreographed and very professionally shot, Decibel cries when she's winning and when she's losing. She makes the same noises when she's striking Fusion as when he's striking her. I found this annoying as well. I would have preferred Decibel to make no sound, or an aggressive Kiai when striking and then a moan or a shock of pain when being struck. Luckily, Allura steps in and totally rescues this scene. This is as good a time as any to point out that Allura absolutely carries this episode. She's phenomenal, and seeing her save this scene is your first indication of that talent.
Next comes a kind of cute but totally ridiculous dance scene for Charlene. How come Charlene doesn't recognize her friend who's just wearing a hat? Not only that, but she initially thinks Vega is a man? Huh? Who at any point would think Vega is a man? Hat and glasses or no hat and glasses. This just confused me, but Charlene dancing and prancing in her underwear makes everything better. We are also introduced to Charlie, who is Charlene's geeky brother who has a terrible crush on Vega… Can you blame him?We are next introduced to Dr Quasar and Dragos. First there's some foot worshiping by Dragos that seems a little forced. Foot worship and debooting do nothing for me, but if you like it, this part will please you for sure. Then Dr Quasar and Allura have a really solid scene together. Did I mention Allura carries this episode? She steels every scene she's in, and this one is no exception.
After a little more plot exposed through a conversation in the bathroom by Vega and Charlene, we are treated to a short but fun kidnapping scene where Fusion easily nabs a totally confused Charlene. The scene ends in a quick over-the-shoulder carry where Fusion carts off Charlene. One thing, I'm confused by is whether Charlene is supposed to be a bad-ass or an airhead? On the one hand, she pulls guns out of kitchen drawers and fires them at the drop of a hat. (Or in this case at the sight of a hat.) She talks about being a crack shot. But then her lines all seem to be designed to make her look like an airhead. Her character also seems really slow to figure out what's going on in any given scene. But again, she dances and prances around in her underwear a lot, and gets carried over Fusion's shoulder, so I forgive her.
Finally, at about 20 minutes in we get the confrontation between Vega and Dragos. YAY! This part is easily the best five minutes of the film. Dragos is a believable and formidable bad guy, and Vega sells both the offense and the bumps to perfection. If you are only going to watch five minutes of this film, watch this part. I won't ruin how it ends for you, but it ends in dramatic fashion. I would have liked to see a shot of the loser after the fight, but that's just my morbid curiosity at play. There's a minor surprise at the end which we all see coming (because it's in the preview that's shown at the start of the film), but it sets up what looks like it will be a great second episode.
Overall, this episode is really well made. It is very professionally done, and again it reminds me of something you might see on the Sy-Fy Channel. (Except for that boot thing, which felt a little forced in.) The produces have definitely chosen really well when it comes to the hero and the villain. It's hard not to stare only at Vega anytime she's on the screen. Plus, her fight scene is very good. I'm sure most of us interested in this genre will like her. She's a hottie who can act and fight. It doesn't hurt that she looks sensational in her costume. Allura steals every scene she's in as well. Her costume is great, and she wears it well. I think she should already be added to the short list of really great villainesses out there.This episode will really appeal to those out there who like their movies heavy in story and light in peril. There are tons of characters introduced, but there are only two fight scenes in the entire 26-minute movie. The first one between Decibel and Fusion lasts about 1:30, and Decibel mostly annoyed me (and Fusion as well, apparently). Vega vs. Dragos is about five minutes long, and it is great—really great. So what the film lacks in quantity it does make up for in quality. Some may think
Impending Death
, starring Thorne, is a better value. In that you get 14 minutes, nearly all of which is fighting and beatdown. However, in this there is almost no peril, at least not to the main character. Her fight scene is great, but thanks to the preview, you know how that's going to come out.In conclusion, the episode might be a little expensive, but when you consider the quality of the production, the size of the case, and the hotness of the lead heroine, in those regards it is as good as or better than anything out there in the genre. I will be picking up Episode 2 as soon as it comes out.
Note: This release includes a free wallpaper!
New Heroine
Message from Heroine Legends
"Heroine Legends" has always been a fan-input production. For that reason, we would like input FROM OUR FANS about the costume, character type, and other details for our next Heroine. The actress' name is Jenna and she is excited to jump on board with filming this series!
You can visit the link below and see the potential costume idea (less is more in her very own words) and photos of the actress! We will take the next few days worth of discussion then she will accompany myself and my team to the costumer to create her Heroine costume!! Here is the link (post your feedback below!!):