Reviewed! "Luna Crush 2.0" from SHG-Media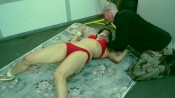 UPDATED with review! The name "Luna Crush" should ring a bell for SHG-Media fans who have been around for a few years. Either way, prepare yourselves for the upcoming release of Luna Crush 2.0, which (I'm guessing) either reboots the character or picks up where the series left off many years ago.
Review by Sidekick
[Spoilers below] I only have a vague memory of the original Luna Crush. I think I purchased one or two episodes of the original series, and they were downloaded on computers that are now well past dead. And to be honest, I don't remember thinking all that highly of them. They simply weren't very good in content or execution, but you have to remember this was several years ago and most of the videos in the genre at that time weren't very good in content or execution.
Luna Crush 2.0 is a big improvement over the original series in just about all facets. It doesn't revolutionize the genre in any way, and there are some issues, but they are issues that are eminently fixable for future installments.
The episode opens with Luna tied to a chair, interrogated, and slapped across the face. Sound familiar? It should. The entire scene plays out similarly to the scene in The Avengers where Black Widow is being interrogated. Just as in the movie, Luna breaks free and quickly downs the goons.
Later on Luna gets a text message with orders to locate and apprehend Vanessa Prescott. Meanwhile, at her hideout, Vanessa schemes with her sister Veronica and the two henchmen that Luna defeated in the opening scene. The girls inject the goons with something. Its never expressly said what but I'm guessing its a formula that makes them stronger. They track down Luna and slap a chloroform rag across her mouth and she passes out.
They take her back to HQ and strap her down on a mattress. They remove her boots and strip her down to her bra and underwear. They then chloroform her a second time but she doesn't pass out right away. Between chloro attempts they do hit her with a few stomach punches. Things look bad but this version of Luna has some mind controls powers. She turns the goons against one another and is able to free herself and escape.
Later on the goons are getting a tongue-lashing from Veronica who gives them pills that make them immune to Luna's mind control power. Luna suddenly busts into the room and in what I think was probably the lowlight of the episode for me, basically lets the two goons grab and restrain her. It just wasn't a great scene. She enters, say that she's here, and just kind of stands there and allows herself to be taken.
She is hit with more stomach punches and has her head rammed into a wall but eventually emerges victorious. Luna then squares off against Veronica and they exchange several shots before Veronica locks on a choke hold. Luna breaks free, takes control of the fight, but the henchmen restrain Luna again, and hit her with several low blows until she passes out.
Luna awakens, this time tied upright to a table, and in a skimpier outfit. Veronica fondles Luna a bit and then using a computer from the early seventies, activates a device that makes Luna positively orgasmic. She resists the effects of the device so Vanessa starts to deliver knee lifts to Luna's groin area. Vanessa raises the power of the device to its maximum level which eventually makes Luna pass out. Vanessa leaves Luna to her goons who hit her with more stomach punches and another low blow but Luna eventually drops them both and in the end swears to hunt down Veronica.
I like the leading ladies in the episode. Alex David is always good, despite her limited screen time here.  I like the new Luna Crush, and I think most people will recognize the villainess from Rye's Wonderous Girl vs. The Zandor film and as the victim from Steve Noir's Revenge: Gang Thang. I apologize, I don't know her name, but I think she was the highlight of the film.
On the downside of things, Luna gets restrained a couple different times without putting up much of a fight at all. At least not much of a fight for a super spy girl with meta-human abilities. I think most fans of this genre agree that its important to believe that even when a heroine is caught or defeated she at least be seen as capable and competent. Luna Crush isn't always portrayed as being that in this film, and I do think it hurts the overall quality to some degree.
In the end, I think there's a lot of potential here for a good series, and this episode was a solid if unspectacular start. I personally would have liked the villainess to inject herself with that formula and take it to Luna, but it was mostly the guys doing the damage. Maybe next episode. There is a heavy does of the aforementioned fetish moments and fans of lows blows and stomach punches should be well served by this episode.