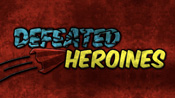 A new site is about to make its debut, and its creator, Jason Hunter, is asking for your help to get things off of the ground. Here's a statement: "This project is a high-quality, superheroine peril series that focuses on the actual peril and story of a group of Heroines who want to see the good in all…"
Defeated Heroines
SUPERHEROINE PERIL
Because I am starting up this site on my own, I need some help to add to the funds I am already putting into it. You can choose to help me or choose not to, but either way, once the first film is finished, I want everyone who purchases it to ENJOY THE $h!+ OUT OF IT!!!
THE STORY
I'm conceptualizing a master villain who is at the control of this war against mankind. A government organization known as The Allegiance has formed with the hopes of eliminating all those who stand in their way. Superheroines are at the forefront of the war, on the side of humanity.
The series will feature the inner workings of the villains and the attempts of the strongest of Superheroines to stop them. Things have changed though and where Heroines were once more clever and strong enough to take down the baddies, now they become entangled in many perilous situations at the mercy of the baddest villains, villainesses, and their DNA-altered henchmen.
THE BACKBONE
Scenarios from the old Batman, Wonder Woman, 1984 Supergirl, and other comic books / TV shows will be obvious influences of what's in store for these girls, who will portray their characters with varying emotions, and deliver a performance that proves their worth as a Superheroine and not just a regular everyday chick.
THE HELP
The budget is much higher than the crowd-funding request, but it will help me secure my talented actresses, get the custom costumes created, pay for awesome locations, and have some props to really add to the whole feel of the film!
THE REASON
I know there are a lot of Superheroine Peril fans who want and like many different things, but all can agree that what we really want is a really hot chick in a really hot uniform being an awesome Superheroine. And we all want it captured in high quality with some real effort spent on the story and filming. That's what I will give everyone.
If we pass the budget, the funds will go straight into immediately filming the next films.
Film 1: Supergirl character
Film 2: Wonder Woman character
Film 3: Rogue character
Film 4: Ultrawoman character
PERKS INFO
All Perks include the Perks prior to it. (e.g. the $50 Perk, if selected, includes the gifts from the $20, $10, & $5 Perks as well. Unless there is a limit specified.)
UPDATES
You want updates? Of course you do!! As we start raising the money, I will start putting it straight to the project and showing you photos and videos so you know it's GAME ON!!
If you have any questions, email me at info@DefeatedHeroines.com
Jason Hunter
DefeatedHeroines.com
Check out the IndieGogo campaign here