Next Global Crisis' "Episode 3″ (Golden Hornet)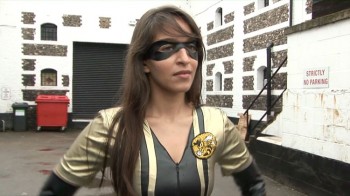 The films produced by Next Global Crisis tend to focus less on peril and more on action, fighting, and hot superheroines who aren't necessarily subjected to torment at the hands of their captors.  So the target audience might be a bit different from fans of SHG-Media and Punished Heroines.  However, with Episode 3, featuring the character Golden Hornet, Next Global Crisis has produced a film which not only has excellent production values, but which also features the heroine getting overpowered by her opponents and eventually defeated.  So Episode 3 should appeal to fans of superheroine fight scenes, but may also interest fans of heroine defeat scenarios.  It's also very well made in general, so fans of superheroines may appreciate it just for the fighting, costumes, acting, etc.
The plot centers on Golden Hornet chasing a purse-snatching bad guy in an alleyway.  He leads her into a mysterious, dingy room where cameras record her every move.  Golden Hornet appears to have walked into a trap.  From this point on, Golden Hornet faces off against two opponents – one male and one female – who constantly disappear and reappear, gaining an advantage over our heroine.
Golden Hornet puts up a good defense at first but is eventually overpowered.  The bad guys keep the kicks and punches coming, as our heroine is worn down and defeated.   Finally, she is knocked unconscious.
The bad guys demask her and show her face to the camera, thus exposing her identity to the world.  Although she eventually comes to her senses and walks away, she is utterly defeated in this film.
I was surprised at how much I enjoyed Episode 3.  I'm typically a fan of Zen Pictures-style peril and torment, although I also like good fight scenes.  In my opinion, Next Global Crisis has the best production values of any non-Japanese producer of heroine-related films.  All of the technical aspects of filmmaking are excellent here, from fight choreography to editing.  The lighting and costumes are very good, and the acting is excellent for a low budget film.  (I'm guessing that these are all professional actors, as they really know how to sell their dialogue).
Storywise, Episode 3 is very simple and doesn't waste any time.  It gets right to the point and starts in on the action without a lot of unnecesary exposition.  I liked watching the heroine face off against two villains who use their powers to create an unfair advantage.
Since the story is good and the technical qualities are top notch, that leaves the actual specific content of the video, and this is basically where a review doesn't really do any good.  Basically, if you like extended torture scenes, tasering, whipping, etc., you won't find any of that sort of thing here.  Instead, Episode 3 features lots of fighting with the heroine getting overpowered, really good acting, excellent production values, a de-masking, and more.  The film isn't really made for peril fans, but for fans of superheroine fighting scenarios.  I really enjoyed it and give it a B+.