X Club Wrestling Episode 23 + Bonus Superheroine Video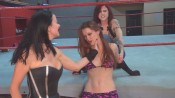 [Adults only] Here's a brand new double release from Pro Style Fantasies, which includes X Club Wrestling Episode 23 (with Kymberly Jane, Akira Lane, Karlie Montana, Diana Knight, Cadence St. John, Randy Moore, The Tay and Rifferus) and a new superheroine video with Christie Stevens!
X Club Wrestling, Episode 23!
Available in HD!
It's the aftermath of Divapocalypse!
We have a new XCW champion: Karlie "The Bitch" Montana! And the Marquise couldn't be angrier about it! She challenges Karlie to a rematch straightaway, and Karlie happily accepts. But does the no-disqualification provision mean that the Marquise's new manager Cadence will have free reign to interfere??
But first, we have the much anticipated return to in-ring action from the one and only G.I. Jewell! The former two-time champ squares off against the wily and kinky "Anime" Akira–but is Jewell ready for XCW competition? Or does she have some "ring rust" she has to shake off first? It looks like the latter might be the case, as Akira pummels Jewell from pillar to post and badly humiliates the fan favorite! Can Jewell come back from such a beating? Or is her comeback destined to be short lived?
Then we have our main event title match–and true to form, Cadence and Marquise waste no time sneak attacking the champ Karlie! But Karlie isn't alone this time–it's the good girls to the rescue! But Karlie's ribs have been badly injured–does she have it in her to defeat the Marquise even with what seem to be cracked ribs??
Included in this thrilling episode:
Prostyle wrestling, brawling, low blows, breast beatings and gropings, stripping, fondling, crotch claws, attacking the ref, rag dolling, humiliation, wedgie, forced orgasms, punches and forearms to the ribs, face punching, two-on-one beatdowns, backbreakers, atomic drops, face claw, stunner, elbow drop, and much much more!
PLUS!!
A special 10-minute BONUS superheroine video starring Christie Stevens! "Star Girl vs. The Master & Disciple!" Star Girl is immediately weakened by the presence of Valerium, but she battles valiantly against the villains in a back and forth action-packed fight! Soon the Valerium, combined with humiliating sexual attacks, is too much for Star Girl to take, and her strength is totally sapped! Naturally, she becomes the bad guys' sex toy! They bend her over and lie her down and take her!
Only $24.95 for FORTY-FOUR minutes of amazing action!!
Starring:
Kymberly Jane, Akira Lane, Christie Stevens, Karlie Montana, Diana Knight, Cadence St. John, Randy Moore, The Tay and Rifferus!