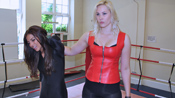 UPDATED – See part 4 below! Custom films have become such a big part of the heroine genre. In fact, some producers have actually taken custom requests and made them a part of their ongoing storylines. So why am I bringing this up now? Well, for the first time ever, I decided to commission a custom.
NEW!

Road to a Custom – Part 4

Welcome back to what will be the final diary entry in my Road to a Custom Series. So, where do things stand as of now? Well, I've seen it. And I was completely blown away. It's Kickasskandy like you've never imagined. It has the look and feel of a Kandy film, but one that has been heavily influenced by the Next Global Crisis style of movie making. And when the day comes that the rest of the community sees it, they're going to want these two producers to partner together all the time. Now, a few non-spoiler thoughts.

1. Ella Palfrey/Hi-Kix is one unbelievably talented actress. I've always known that but her performance here was on another level. Just a remarkably gifted young woman who commands viewers attention every second she is on screen.

2. HW is an absolute star in the making. By the time this diary entry runs I think most of you will have seen her in a NGC members film. She is overflowing with charisma and has such a strong presence about her. And here's the best news. She is not going to be a one and done character in the KAK universe.

3. This was my first experience commissioning a custom and I can't imagine the process going any better. Every idea I had was incorporated in exactly the manner I wanted them to be. But I left a lot of gaps that I trusted Kandyman and Andrew to fill, and my trust was rewarded. Every decision they made was the right one.

That's all I'm really going to reveal until it's time to run a full review. Can I run a review of my own custom? Sure. Why, not? I've added one more new photo as a final teaser. Now I'm going to go quiet and let Kandyman be the sole voice of the future of this project. I wanted to take this opportunity to thank him for allowing me to give out the information I have and supplying photos to run. He did not need to do that but he's always been about fan service and I couldn't be more appreciative of his hard work during this process.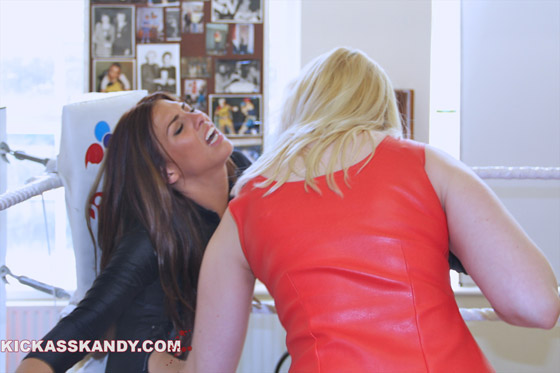 I also wanted to thank Andrew for coming in on this project. I don't know why he did it. It's not like he doesn't have other things to do. But he did it. And I'm grateful. As mentioned above, his influence was plainly obvious.
And thank you to HM for allowing me to run these diary entries.
And the reason it worked is the target of the final thank you—the fans. We didn't know if anyone was going to have an interest but the response was phenomenal. Thank you so much. Your feedback is what makes this site so great.
Road to a Custom – Part 3
So when I officially decided to go forward with this custom I had to figure out two important things:
1. Who would be the principal Kandygirl?
2. Who would she fight?
The first was easy. Hi-Kix has always been my favorite Kandygirl and casting her was the easiest decision I've ever made. Picking her opponent on the other hand was a much harder choice. You see, I always wanted the KAK girls to have a nemesis to deal with. Kind of like when James Bond would run into a Jaws or an Oddjob type. Basically, a physically superior opponent that they would have a hell of a time in putting down.
Now for a while I was strongly considering a male for the part if for no other reason I thought it would be easier for Kandyman to cast. But as it got closer to decision time I started to have second thoughts and Kandyman assured me that they would be able to find the right girl for the job.
So a week or so went by and out of nowhere I get an email from Kandyman with an attachment. It was just a headshot of this beautiful blonde girl who also happens to be all of six feet tall. As Andrew from NGC stated in his earlier post, he had already cast her for a role in one of his films and referred Kandyman her way. And if we've learned anything over the years, it's that Andrew does not make mistakes in casting his female characters.
Originally, I was happy with the choice and now that I've seen just a touch of her in the behind the scenes clip I was sent, I was over the top excited. She just looks perfect and has a real presence about her. And as you can see from the photos, she towers over Hi-Kix.
I hope you guys enjoy the photos, and I can't thank Kandyman enough for allowing me to post them. More entries are coming soon.
Road to a Custom – Part 2
It's done! What the heck am I talking about? Well, the film was shot on July 13, and when I woke up the next morning, Kandyman was gracious enough to have sent me two behind-the-scenes clips. And one of them showed a little portion of the fight scene rehearsal between Hi-Kix and her opponent.
So what I'd like to do now is give some specifics about the film. I won't post anything spoilery about the story—just some basic tidbits to give you some idea what to expect. I'll do it "Q & A" style, but if you want to go into this without knowing anything when it does get released, stop reading now.
Q. Who is Kix fighting?
A. Her main opponent is going to be a woman. Sorry M/F fans, but I have my reasons.
Q. OK. What are they?
A. Well, I prefer F/F fights and if somebody was going to really challenge one of the KAK girls, I thought it should be a woman. It's a girl-power web site and I wanted to honor that.
Q. What can you tell us about Kix's opponent?
A. You've never seen her before, but she is six feet powerful and gorgeous. I'll leave it at that.
Q. What is Kix wearing?
A. A catsuit. And I'm telling you she has never looked more beautiful.
I think I'll wrap it up here, but I wanted to mention that this process has gone spectacularly so far. The pre-production communication was seamless and from a three minute behind the scenes clip I can tell this film is going to be exactly what I wanted. More to come soon.
Road to a Custom – Part 1 (Original post)
I had thought about doing it several times in the past but never pulled the trigger and I honestly never thought I would. I'll explain why I eventually did, and I decided to create this ongoing "diary" to give some insight into the custom video process. I plan to provide updates as the project evolves. For now I'll use the five W's to let you know where things stand and how we got to this point:
Who – For several reasons I decided that Kickasskandy was the best choice to bring my custom idea to life. Let me break the reasons why down for everyone.1. Simply put, KAK has always been one of my favorite producers.
2. I prefer the content of my videos to be PG-13 and that's what they produce.
3. I prefer the spygirl genre to the superheroine one.
4. I was tremendously impressed by a custom they produced called Kickass Unchained (reviewed here). The film itself was commissioned by friend of the site, Dizzle83, who spoke highly of his experience working with KAK.
5. Hi-Kix is back and she has always been my favorite Kandygirl.
6. They are completely open to perilous scenarios and this film will be perilous. I promise.
What – As in what is the custom about? Well, I like to keep that quiet for now. I'm usually pretty anti-spoiler. The only thing that I'll say is "something wicked this way comes" for Hi-Kix.
Where – Well, London obviously. All I know is Kandyman e-mailed me and said that the location is locked. They always have great locations, so I have no worries here.
When – Shooting is scheduled for the middle of July. I have no idea when it will be released to the public.
How – As in how did this all come together? Well, after deciding KAK was the best producer for my personal tastes, I emailed Kandyman three scenarios that I wouldn't mind seeing. He promptly replied that all three would work well. I finally picked the one that most appealed to me, and Kandyman started to go about the process of casting. About two weeks later I received an email saying that the cast and shooting date was all set. But there was something else in his email. Something incredibly awesome. Let me paste it below.
"I have discussed your custom request at length with Andrew at NGC and he loves the idea so much that he wants to write it!"
How about that? The best writer in the genre wants to write my custom! Take my advice: if that offer is ever made to you, just say yes. I sure as hell did, and over the past week or so as Andrew worked on the script the three of us brainstormed ideas ranging from wardrobe, to fighting styles, to specific combat moves. And now I'm happy to report that thanks to their input, my idea has evolved and is better than ever. Also know that since it is a custom, I do have final say in the content. None of the ideas from Andrew or Kandyman were forced on me, but I thought their ideas made my plan ten times better, so I think I incorporated them all.
Anyway, I think that brings everyone up to the current state of the project. As I mentioned as things happen I'll add to this and hopefully help you guys decide if commissioning a custom film is right for you.