UPDATED! Skyfire II (and Trailer for Skyfire III)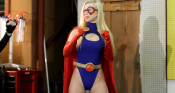 UPDATED with Skyfire III trailer! Fans of Skyfire will be delighted to know that Skyfire has returned in this all-new sequel, Skyfire II. This episode (reportedly to be released in two parts) increases the peril factor and features an extended AOH sequence (to be continued on Skyfire III).
NEW! Skyfire III Trailer
Skyfire II Trailer
Review of Skyfire II by HM
We begin in mid-scene with Skyfire already in the midst of taking on two mean-looking thugs who try to bring our beloved superheroine down by beating her with a crowbar, which (of course) proves to be an exercise in futility. Skyfire bends the crowbar in classic super heroine fashion, and the bad guys, now appropriately terrified, run away into the darkness of a huge warehouse/facility where most of the video takes place.
We then cut away to a completely different sequence involving a fight scene between two hot girls. We don't have any way of understanding what this means yet, but it will all be reasonably explained later on. This sequence is intercut along with the Skyfire storyline throughout the video.
Skyfire continues taking on the thugs and toying with them. Eventually, the bad guys are able to get the drop on her (though I won't say how) and weaken her. They then engage in a classic, extended two-on-one super heroine beatdown, dishing out face punches, belly punches, lots of knees to the stomach, stepping on her hand, chloro, humiliation, etc. (In particular, I loved a particular line of dialogue from Skyfire during the chloro scene, especially as delivered by the actress.)
Most of the video involves the physical and psychological torture of poor Skyfire—unlike the first movie, which featured more of Skyfire's origin story (although it did feature an epic beatdown in the final sequence).
Skyfire is then chained up AOH and tormented by the main villain, General Blade (what were his parents, Mr. and Mrs. Blade, thinking when they named him General?!) From this point on, most of the video unveils story information setting up Skyfire III, but also introducing General Blade's powers and explaining the alternate storyline (the two girls fighting in another room). The situation being set up for Skyfire III is very unique and interesting, and I'm guessing that Skyfire III is going to feature even more punishment for Skyfire.
Fans of the original Skyfire should enjoy this one, especially those who want to see Skyfire on the receiving end of an extended beatdown. This video feels a little "smaller" to me, in comparison with the epic-ness of the first episode, but that's not a drawback since the story is more intimate and features a lot of back-and-forth psychological torment, particularly between Skyfire and General Blade. There's a pretty significant set-up for the next episode, which looks like it may feature more fighting and peril for Skyfire.
[Note: The photos below feature content from
Skyfire II
and the upcoming
Skyfire III
. Let the trailer above be your guide…]
–