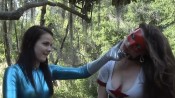 It's been a great 2013 with just about every producer raising their game to new heights. But there's been one producer missing, and they happen to be one of my favorites. That producer is Cult Retro. But now they're back! Sort of. Let me try to explain.
For the uninitiated, Cult Retro makes movies that cross over into several different genres. Just to name a few, they've done peril movies, girl power movies, spy girl movies, space babe movies, and jungle movies. They also create some of the best special effects that the genre has to offer. Their last few releases have gotten a little more serious in tone while their older releases were a tad more campy. I love both styles but really enjoyed the more serious turn.
Personally, I think their best film is Stormy Tempest: Velocity Blaze. If you're looking for a perilous adventure and haven't seen this yet, you should absolutely check it out. It stars Nicola Rae who I once wrote has an Anne Hathaway thing going on. Looking back, I think I owe Nicola an apology because Anne Hathaway wishes she was as pretty as Nicola. I think it's safe to say she is Cult Retro's main star and she is just overflowing with talent. Easily one of the best actresses in the genre. I've mentioned before that I love to see my favorite actresses who play heroines take a shot at playing a villain. And without a doubt the actress I want to see do that the most is Nicola Rae. Hopefully one day.
So I check the Cult Retro website about once a week, and there hasn't been much activity for a great deal of the year. But when I logged on earlier this evening, there was a new trailer for the upcoming fourth season. No firm dates yet, but the trailer is outstanding. Looks like a bunch of super powered babes just beating the heck out of one another. You can check it out for yourself below. However, before a new Stormy Tempest adventure is released, they are going to be introducing a new character named the Scarlet Scorpion. I don't know much about it other than the actress playing her is an absolute fox. I'm guessing it's going to be incredible. Bottom line, one of my favorite producers is back (almost), and I couldn't be happier.
For more information visit Cult Retro