Superheroine World's "Black Falcon 2" with Paris Kennedy and Nicole Oring
This sequel to Black Falcon from Superheroine World is even better then the original… if, that is, you're looking for more peril and more punishment for our lovely heroines.  There isn't quite as much of a storyline this time around, the characters don't spend a lot of time talking, and the heroines, Black Falcon and Ninja Hawk, definitely don't land their fair share of punches against the villains.  Instead, this time, the heroines are basically beaten up and manhandled by the bad guys in just about every way imaginable.  So if you enjoy victorious heroines who save the day, this isn't your movie, but if you like heroine peril and lots of it, look no further, as Black Falcon 2 doesn't disappoint.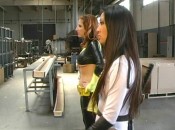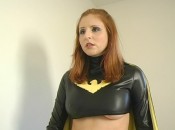 The film begins with a fairly long recap of the previous episode, in which the two main characters teamed up (unsuccessfully) against their nemesis, El Diablo.  Instead of apprehending him and taking him to the proper authorities, the heroines ended up getting beaten down and sexually assaulted by the maniacal and disturbingly well-dressed El Diablo.  That video ended with Ninja Hawk apparently being taken prisoner and Black Falcon vowing revenge against El Diablo.
Black Falcon 2 picks up right where the original left off.  Black Falcon, played by Paris Kennedy, returns home, still weakened and stumbling from her unfortunate encounter with El Diablo.  She walks in to her house and collapses on the floor.  She is soon awakened by the delivery of a DVD, which she begins to watch.  The DVD has been sent by the dreaded El Diablo, who tortures his captive Ninja Hawk on video to taunt Black Falcon.
This torture scene is just great.  I thought so, anyway.  El Diablo uses a vibrator on Ninja Hawk's sensitive areas (I'm trying to keep this review merely R-rated, so bear with me), causing Ninja Hawk to, um, have an involuntary pleasurable reaction.  So for those of you into sexual torment, I think this scene, while not hard-core by any means, is really good, mostly because of how sexy Nicole Oring is.  This is followed by an outstanding scene in which Ninja Hawk is repeatedly punched in the stomach while tied up AOH.  An excellent belly punching scene in my opinion, with awesome reactions by Nicole Oring (for those of you into that sort of thing).
El Diablo's plan works (of course), and soon Black Falcon is on her way to the bad guys' hideout.  From this point on, there really aren't a lot of plot twists, but simply more tormenting and beating down of our heroines.  Black Falcon and Ninja Hawk take on El Diablo and his evil friends (one of whom is played by Diana Knight) in a warehouse, and manage to land a few punches, but soon the tables are turned, and the remainder of the video is devoted to the beatdown and sexual/physical torture of the heroines.  I recommend watching the free preview at the Superheroine World web site to get an idea of the types of torment in store for our hapless heroines.
As with just about all Alex Bettinger/Paris Kennedy productions I've seen, Black Falcon 2 looks and sounds great.  This is professional quality production from costumes to editing to lighting, etc.  The performances are also excellent.
If there are any flaws that I can see, they would be totally dependent on personal taste.  For example, I personally wish the videotaped torture scene with Nicole Oring had been longer, but others might disagree.  There's a lot of torment to go around in this video, so for the most part, everyone expecting lots of peril should be happy.
As you can see, I really liked Black Falcon 2 and highly recommend it to fans of heroine peril.