If you've ever wanted to see Super(ior)girl getting totally physically dominated, beaten, crushed, and humiliated, then look no further than Episode 8 – Nuclearman from The Battle for Earth.  While the previous episode in the series introduced us to Superiorgirl and gave us a brief battle in which she was beaten pretty severely, that was only a prelude to the punishment she takes in Episode 8 at the hands of Nuclearman.  I suppose there isn't that much to say about this episode, especially if you've seen Episode 7, except that it consists almost entirely of Superiorgirl being beaten and humiliated.  So, if you like the actress who plays Superiorgirl and you like superheroines being physically destroyed, you should love Episode 8.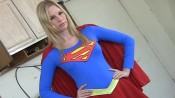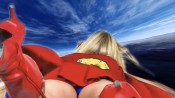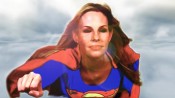 After the painful encounter Superiorgirl endured in the previous episode, she's summoned by Spawn to an evil hideout.  She flies to this location (with special flying effects!) and eventually does battle with the one and only Nuclearman, who looks quite menacing and has a scary sounding voice.
This brings us to about the ten minute mark of the video, and everything that happens after this (for the remaining half hour) involves Superiorgirl receiving the beating of her superheroine life.  Bearhugs, low blows, belly punches, face punches, shirt grabs, stomps, getting weakened by "space rocks," getting her legs stretched apart, more low blows, more bearhugs, etc.
As with the first episode, I really like the actress who plays Superiorgirl.  She's really good at just about every aspect of the role, from playing a confident superheroine to selling the pain and humiliation of being beaten by Nuclearman.  Nuclearman is a physically imposing presence, and the evil Spawn really enjoys providing his evil commentary from the sidelines as Superiorgirl is beaten down for his entertainment.
So, that's pretty much all I can say about Episode 8 – Nuclearman.  It's just a non-stop superheroine beatdown for a good half hour or so.  Fans of the previous episode shouldn't be disappointed, and peril fans should be ecstatic about this video, and the fact that the series is only half-way over.  I believe we're going to be introduced to Nuclear Girl in a future episode, so it sounds like this series is only going to get better.