The CW's "Nikita" Starring Maggie Q
I normally don't discuss mainstream movies or TV shows on this site.  Hollywood productions involving action and female lead characters are usually pretty boring to me.  I can't think of one off the top of my head that I've actually enjoyed watching.  And yet I love independently produced action/adventure/fantasy films available on the internet, typically produced on shoe-string budget and designed to appeal to somewhat specialized audiences.  But I'm not opposed to mainstream "action heroine" entertainment, especially when it features a very sexy lead actress like Maggie Q.  So tonight I watched the premiere episode of The CW's Nikita.  Here are my initial impressions:
First, a little background.  Nikita is the latest remake of Luc Besson's 1990 French film La Femme Nikita, which was remade in 1993 as Point of No Return starring Bridget Fonda.  Already, you can begin to see the problem.  When Hollywood acquires a property, it has a tendency to squeeze everything edgy and interesting out of it; hence, the very boring and generic title, "Point of No Return."  And Bridget Fonda is nice looking, but she doesn't have the raw sex appeal of the original Nikita, Anne Parillaud (or the new Nikita, Maggie Q).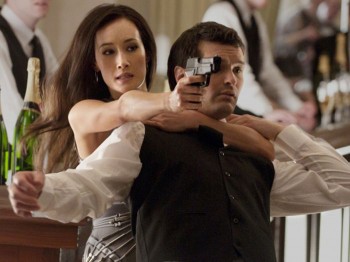 The next version of the property was the successful Canadian-produced TV series "La Femme Nikita" starring Peta Wilson, which ran from 1997 to 2001.  All of this Nikita-related activity begs the question: Why do film and TV producers keep tapping into this particular property?  There must be some reason people crave entertainment involving gorgeous heroines in dangerous situations.  (Of course I think so… just look at this blog for heaven's sake 🙂 ).
So, the latest version of "Nikita" is this CW series starring Maggie Q.  First of all, Maggie Q is extremely gorgeous as the main character.  I've always been an admirer of her and think she's an excellent heroine.  She has the acting chops to pull of the role, not to mention she's simply dazzling to look at.  A few of the action scenes are pretty well done, and the premiere episode promises more drama and intrigue as the series develops.  It also features some incredibly boring supporting actors like Shane West and Xander Berkeley.  But all in all, it seems like a fairly entertaining show, mostly because of the charisma and beauty of its lead actress.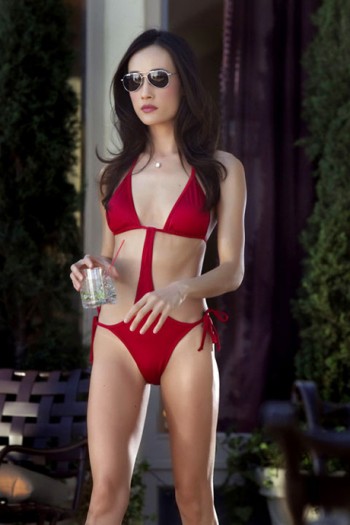 However, as a fan of such admittedly bizarre fare as Zen Pictures' Smart 109, RingDivas' Sayuri Blood Chronicles and many other low budget heroine-oriented productions, I can't help but feel that several elements are missing here.  The convoluted story involves Nikita's attempts to dismantle the organization that trained her to be a lethal assassin, killed her boyfriend, and made her life a living hell.  There's a lot of melodrama, a ton of dialogue, and a few plot twists, but there's relatively little action.  And just about all of the action involves Nikita taking on several henchmen at a time and emerging for the most part unscathed.  There's never really a sense that she's in any danger, and we're always pretty sure she's going to be okay.  Aside from that, the vast majority of the premiere episode features extended dialogue sequences.
Doesn't this get rather boring after a while?  I can understand the need to create drama to hook viewers throughout the show's running time, but so many of us just want to see fighting, sexy outfits, peril, and all of the elements that make up most of the films you'll find reviewed on this site.  "Nikita" asks you to invest emotionally in the characters and story.  Smart 109 just gives you a hot, sexy girl in a skimpy outfit who fights bad guys, gets tied up, escapes, and fights some more.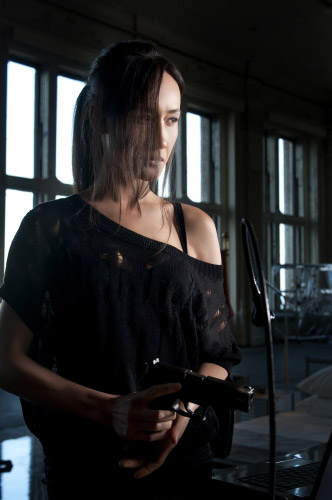 Mainstream entertainment seems hindered by the need to appeal to a vast audience in order to justify the large budgets required to produce it.  Production costs are very high, and so a show like "Nikita" can't spend a significant amount of time appealing to any particular subset of the audience.  Every episode must appeal to as many people as possible.  And so you'll never see an episode of "Nikita" that involves a long, drawn-out fight scene in which Maggie Q torturously dominates and destroys her male opponent.  And yet I've seen more than enough of this kind of material on the internet to know there's a big audience for it.  The audience just simply isn't big enough to justify a production the size of "Nikita."
Similarly, there will never be a Zen Pictures-style, graphic, several-minute whipping or belly punching scene of Maggie Q in "Nikita" (something you'll find in any Zen production).  Although I guarantee you that many, many male (and female) viewers would love nothing more, it simply won't happen for the reason noted above.
This is the advantage that independent, internet-based producers have.  They can produce basically whatever they want, no matter how obscure, and no matter how "obscene" (in some people's eyes), and thanks to the internet, the audience will find it.  So, a three-part video from RingDivas focusing almost exclusively on the torture of the main heroine becomes a successful franchise.  Similarly, a video in which a Supergirl-like character humiliates her male opponent for almost the entire running time can also find a grateful audience.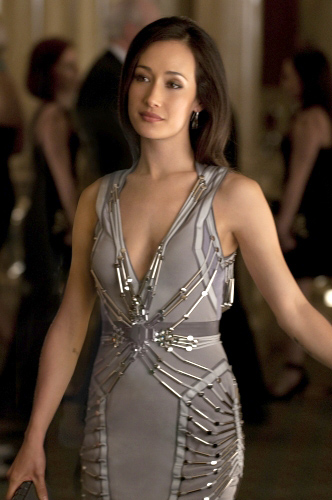 But "Nikita" will continue to give us the kind of television drama we've become accustomed to for several decades, and will most certainly never venture into the kind of edgy, sexual, fetish-oriented content that defines so many low budget heroine films.  It's like a tease—an interesting fight scene here, a little bit of peril there, Maggie Q fighting bad guys for three minutes in a skimpy bikini—but it can never go in the interesting directions so many fans really want it to.
On the other hand, it does have great production values, and Maggie Q is really lovely as Nikita.  So I suppose it's just a matter of appealing to a large, multifaceted audience rather than focusing on the relatively tiny fraction of viewers that enjoy the specificity of a Zen Pictures or Giga Freeks.  I guess there's room for all kinds of entertainment, from big-budget mainstream productions to low budget internet-distributed niche products.  But I definitely know which kind I prefer.
(I would like to know if you guys enjoy articles like this. I haven't really covered "mainstream" films or TV shows before, so I'm curious if this is an area you would like to see explored further on the site. Feel free to leave comments or contact me to let me know what you think!)