The Heroine Movies "Week in Review" – May 25-31, 2014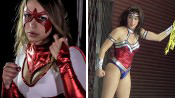 And here we are with a look at the week that was. It's been another great seven days filled with quality releases and some glimpses of what's to come in June which should be a sweet month for fans of all tastes. Check out all the latest news below, and feel free to comment!
Redwing 2 from The Battle for Earth is coming and the excitment of the fanbase seems off the charts.
Watch Diva stomp all over Skarlet and her partner in the latest Kick Ass Femmes release, Agents of Kickass.
Da Jinx, the producer at Ultraheroix, updated his blog and writes about one of his own character creations.
Andrew over at Next Global Crisis has announced that come June, we'll finally learn what happened to Bluebird after Side Mission 11, a classic episode.
Rye recently revealed his plans for world domination.
Lady Wonder and Allura were no match for Amoeba in A New Toy, while mind control played a huge part in Canary: Breaking the Bond – Part 2, both from Cross the Line Entertainment.
The X Club Rumble Undercard from Pro Style Fantasies was released, and this time barbed-wire and a ladder are prominently involved.
Damien Woods has an upcoming shoot with both Hannah Perez and Jacquelyn Velvets, and you have an opportunity to make your custom dreams come true. Just remember, the time Damien has with the two actresses is limited, so simple would be better than complex. And no zombies!
Coco has taken up the Luna Crush mantle.
And finally Miss Pacman 2: Ghost Food is out and available for purchase.