Two New Superheroine Videos from SleeperkidsWorld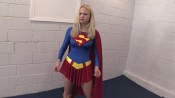 Vampires are all the rage nowadays, so now's the perfect time to enjoy two new videos from Sleeperkid featuring superheroines doing battle with "The Vampiress." Looks like fun for fans of superheroine/wrestling content. Check out lots of pics and information below!
Super Alisa vs. The Vampiress
Super Alisa vs. The Vampiress
Having heard of a new villainess named THE VAMPIRESS (played expertly by Eliza) in town, Super-Alisa shows up to the baddie's "dojo" for a training session as a regular human being. The Vampiress, masquerading as a martial arts intructor, invites Alisa to attack her, out maneuvering her each time with judo flips that leave Alisa stunned on the ground. Eliza takes this opportunity to turn into her REAL self, trapping Alisa in a bodyscissors/sleeper combo that renders her unconscious. Ready for her meal, Eliza extends her fangs and sinks them deep into Alisa's neck.
CRUNNNNNNNNCHHHH!!
Eliza pulls away from Alisa's body, screaming in pain as we see BOTH her (now broken) fangs fall to the ground. The supposedly unconscious Alisa awakens and transforms into her Super alter ego. The Vampiress seems strangely intrigued by this, having always wanted to take on a REAL challenge. She attacks, but Alisa crushes her attempted punch with a single had, driving Eliza to her knees. She proceeds to throat lift the Vamp, throwing her to the ground and choking her with her black cape. Eliza finally passes out as Alisa gloats, but the do-gooder isn't done yet. She traps the Vampiress in a KO sleeper hold, only to awaken her and nail some judo flips of her own! Ater some brutal body blows against the wall, Super-Alisa unleashes a barrage of face punches that send Eliza flying to the ground. A few more ground punches finally knock Eliza out COLD.
Certain that she's won the day, Alisa calls the mayor to report the news. When she turns around, however, the Vampiress is gone…but a disembodied voice tells her that she's known her true identity the whole time she was there. Soon enough, the Vampiress materializes behind Alisa, armed with a chunk of kryptonite that quickly saps her foe's strength. Using the green rock as brass knuckles, Eliza delivers a brutal right cross that KO's the heroine, and then proceeds to drink from Alisa's wrist. The pain-stricken Alisa groes groggy from the loss of blood and finally passes out, with the Vampiress deciding to spare her life…if only to keep the superheroine around as an endless supply of power-enhancing meals. We fade out on an unconscious Alisa as the victorious evildoer exits the scene.
Purchase Super Alisa vs. The Vampiress at Sleeperkids World
Bat-Tracy vs. The Vampiress
–
Bat-Tracy vs The Vampiress
(filmed in Arizona/FWR studios)
We fade in on Bat-Tracy following up on a tip that an evil villainess known as the VAMPIRESS (played beautifully by Jacquelyn Velvets) has set up a new lair in town. After entering the building, Bat-Tracy finds her boots stuck to the floor. Unable to budge, Tracy can only watch as the Vampiress materializes behind her, telling her that the lair is laced with her own magic, allowing her to do ANYTHING she wants to the trapped heroine. The Vampiress proceeds to beat Tracy up and down the room…without even touching her! She uses magic to force-push Bat-Tracy, slam "phantom" punches into her face, choke her, and even FORCES Bat-Tracy to slam her head repeatedly into a steel chair, all BEFORE choking her into unconsciousness with a magic "grip" attack. The vampiress then decides to get her hands dirty, slamming Tracy into a wall, beating her belly, tossing her across the carpet, unleashing a barrage of blows to her face, finally KOing her with an uppercut that sends Bat-Tracy flying onto a couch.
The Vampiress laughs maniacally and slowly disappears, leaving a groggy Tracy to stand up and say "You know? If I didn't know any better, I'd say this was a setup!". The Vampiress suddenly re-materializes and uses super speed to trap Tracy in a brutal sleeper hold KO! After making sure Tracy's out for the night, she activates a homing device on the do-gooder's belt, ensuring that her friends will come and find her…and become part of The Vampiress' personal collection!
(includes outtakes)
Purchase Bat-Tracy vs. The Vampiress at Sleeperkids World