Two New Superheroine Videos from SleeperkidsWorld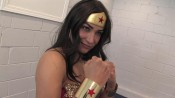 Sleeperkid has just made available two brand new superheroine-themed videos (Wonder-Saya's Demise and Bad Deeds Unpunished) featuring the likes of Alisa Farrington, Heather West, Tifanny Roxx and more. Check out images, synopses and a two-minute sneak peek. 
–
We fade in on DANGER squaring of against WONDER-SAYA in a brutal KO battle to the end. Saya starts off confident, but after a few jaw punches refuse to faze Danger, Saya knows she's in trouble. Danger replies with a sudden front sleeper that KOs Saya, and then proceeds to work the unlucky superheroine over, using a bearhug KO, gas mask KO, some dragging, a camel clutch/handmother KO, and a chloro KOto severely stun Saya…giving Danger enough time to wrap Saya in her OWN lasso and force her to tell her if the chloroform on her cloth will keep her unconscious ("Fausta", y'all!). Saya says yes and is sent to dreamland, but manages to sneak attack Danger during a phone call to her boss, KOing the beautiful Amazon with her own cloth! She tries to wrap the lasso around Danger, but the powerful lass awakens and wrestles it away…all while trapping Saya in a handmother for yet another KO!
Danger stands the woozy heroine up and tells her that if she comes quietly, all the pain will cease. Saya sleepily agrees, submitting to a final chloro KO that leads to a quick behind the back hand tie-up with her lasso…AND an extended over the shoulder carry out of Danger's lair!
–
This is one of the best superheroine shoots we've yet to produce here at SKW! Seriously, folks…it rocks!
We fade in on burglars Rock-C and Tifany Roxx inspecting their newly stolen goods, stopping to notice a particular artifact that they're SURE will get them millions on the black market. They prepare to vacate their lair when a sudden flurry of super-speed punches, kicks, leg sweeps, and a inal massive dual uppercut send both baddies OUT COLD to mats!
We suddenly see Super-Alisa and her new heroine in training (Heather West) standing over the fallen girls, with Alisa using the robbers as practice dummies for her progeny's training! The two proceed to awaken Rock-C and Tiffany, destroying them via dual reverse bearhug ragdolling KOs, back to back sleeper hold KOs, super breath body pile KOs, flying pnches to the face and belly, and a final forced body smash KO! The super-gals use their super-speed to tie up the baddies, but their curiosity gets the better of them and they inspect the stolen loot. After opening a container holding a chunk of kryptonite, the ladies panic and start to fade, writhing on the mats as they attempt to crawl out of the room. They finally collapse, unconscious, as Tiffany and Rock-C begin to stir.
After gaining their strength, the two realize what happened and decide to have a little fun with the now weakened heroines. They proceed to torture the blonde do-gooders with multiple krypto-facepunch KOs, de-caping and de-booting, dropkicks to the wall, massive wall splash double KO to a bodypile, a double roundhouse kick KO, back to back snap kicks to the face KOs, and side by side sleeper hold KOs.
The criminals make their way out of the lair in the end, leaving both heroines unconscious, with a single chunk of green rock weighing them down. The ladies manage to stir and awaken, but the power of the kryptonite sends them back to Dreamland…as we fade out.