"Wonder Woman in: White Slavery" from Tropic City Heroines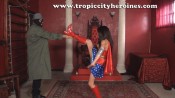 [Adults only] The latest offering from Tropic City Heroines involves Wonder Woman and her experience being tormented by "Dark Shadow" as he prepares to sell her into slavery. I'll let the synopsis do the rest of the explaining, but enjoy the images and plot description below.
Dark Shadow has captured Diana Prince and has been torturing her and fondling her. His intent is to break her and sell her into white slavery. But, finally, he leaves her alone and she is able to spin into Wonder Woman and free herself. She briefly fights with Dark Shadow and captures him. She decides to teach him a lesson and tortures Dark Shadow.
But she makes a mistake as well, leaving him alone in his own dungeon. He frees himself and as she enters the dungeon, he is able to take her down. Now, he has a much better prize as a white slave to sell. Time for her training. He ties her up, strips her naked, fondles, spanks and whips her. Next he makes her dance for him with panties in her mouth. Then she is bound again and taught to suck cock by making her suck a dildo. After she learns that, she must suck Dark Shadow's cock and then he fucks her for a bit.
She is finally broken. He brings her in with a leash and makes her walk like a , bark like a and clean his shoes with her tongue. At long last, he makes her assume the slave position as he hears the auction coming to an end. He walks her out towards her new life as a white slave.