X Club Wrestling Episode 25 from Pro Style Fantasies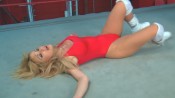 [Adults only] And now it's time for the latest episode of X Club Wrestling, featuring Annie Cruz, Paris Kennedy, Jessica Ryan, Rifferus, and the odd tag team pairing of Sinn Sage and The Ocean Patrol's Angela Sommers. Check out a trailer, images and story synopsis below.

[Watch in 720 for best quality]
For the past several episodes, we've seen the raging feud between the wildfire country girl, Sinn, and "Nasty" Annie Gunn become increasingly brutal. Last week, Annie seemed to think she had put the feud to an end with her victory at Divapocalypse, but Sinn quickly disabused her of that notion!
General Manager James Jackson has had enough of the mayhem being caused by these two brawlers, so he proposes that they have a "Final Showdown" at the upcoming PPV event, The X Club Rumble! He proposes that there be a tag match tonight–and the winning team gets to choose the stipulation for Sinn and Annie's final match! Naturally, Annie will team with Roxy Blade–but who will be Sinn's partner?? GI Jewell and The Tigress and Karlie Montana are all unavailable. But fear not, James has the perfect tag partner–a tag team specialist!–in The Ocean Patrol's Angela!
Needless to say, Sinn is not happy about having a cream puff like Angela as her partner, but she accepts the match anyway–so eager she is to get her hands on Annie! This proves to be a rash decision on Sinn's part, as both she and Angela are ravaged and sexually humiliated repeatedly! The destroyed Sinn is even thrown through a table!! It looks like Annie and Roxy–with a little help from a devious ref!–will easily take the win, and Annie will get to choose the match stipulation for the final showdown at the X Club Rumble! But what type of match will she choose??
Included in this thrilling match:
Brawling, wrestling, groping, fondling, stripping, belly punches, spankings, wedgie, GTS, two-on-one and three-on-one beatdowns, low blows, crotch claws, boots used as weapons, head blows, rag dolling, squash match, forced orgasm, strapon ravishing (softcore), forced strapon oral, false pin (head pulled up before 3 count), one wrestler thrown through a table, and much more!!
Starring: Sinn Sage, Annie Cruz, Paris Kennedy, Angela Sommers, Jessica Ryan, and Rifferus!