UPDATED! "Alpha Kandy" from KickAssKandy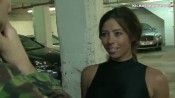 UPDATED with images! We don't try to stuff girl power film reviews down the throats of our overwhelmingly peril loving crowd, but when we come across a video, like KAK's Alpha Kandy, that's well done and stars a girl that has a real "wow" factor about her, we like to let people know.
The film centers around a new Kandygirl named Diva. And I say she has a "wow" factor about her because the first time I saw her on screen in the trailer, my first words were "wow." As in "Wow, that is one good looking woman." She's also crazy athletic. Maybe more so than any other Kandygirl that has come before her. Judging by the moves she pulls off in this video, I have to imagine she has a background as a gymnast.
Diva enters a parking garage in high heels and just about the tightest pair of pants I've ever seen. She runs into a masked sentry and destroys him with punches, kicks, and knee lifts. Then she picks up her bag, spots another sentry, and changes from her heels into knee high boots.
She goes on to eliminate the second sentry in a similar manner then she did the first. She then pulls off the boots which leaves her barefoot. Enter sentry number 3 and it's at this point we get to see Diva's superior physical talents as she does multiple backflips across the garage and downs the man with one punch. Several similar scenarios follow as she takes down a few more bad guys and incorporates her aforementioned gymnastic abilities to do so.
This is the definition of a classic Kandy film. Well produced, well choreographed, and all girl power. Diva is absolutely fabulous in this film. I was trying to think of a way to describe her look and all I could come up with is Hi-Kix crossed with Lucy Zillion from NGC. That's a damn good combination and about as complimentary as I can be.
In other KAK news, they have a block of time set aside for custom shoots this November but they already have several scheduled, so it may tough (but not impossible) to get one done during that time. Kandyman indicated to me that they also plan to shoot more customs at the beginning of next year, so if you have interest in getting one done, contact him here. I'm not sure who is on the active roster at this point, but if Diva is, I imagine she's going to be busy come November and January.
And on a final note, we've had several people asking about the release status of my custom. For those of you who don't know what I'm talking about I recently ordered a custom film through KAK, and did a little diary about the experience.
I personally have no idea when it will be released to the general public and I've promised not to press Kandyman on the issue. That doesn't mean you guys can't. Just saying.