"Assassin Showdown 4" from Femme Fatale Fight Club
Check out our latest release: ASSASSIN SHOWDOWN 4.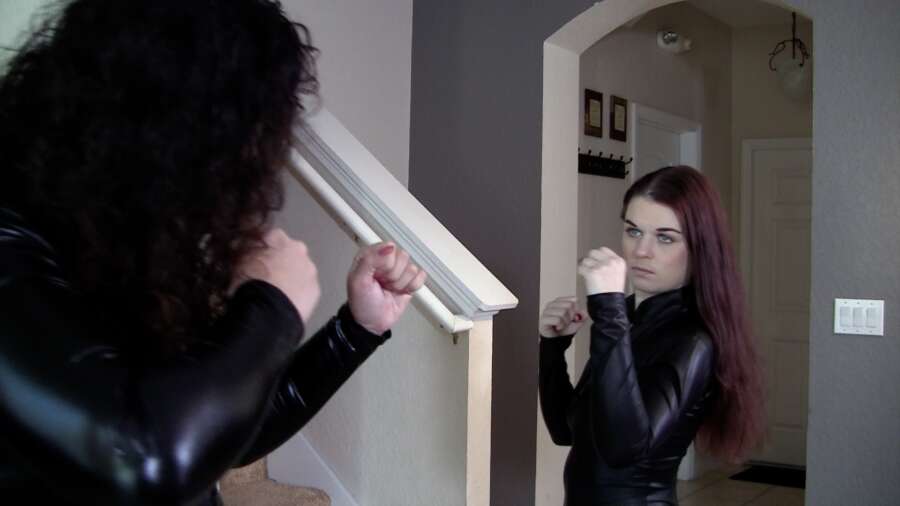 Kim Chi is known among the world's elite assassins as the best in the business – a reputation Anastasia Rose has decided she wants for herself. She sneaks into Kim's house and confronts her when she returns. When she beats 'the best', Anastasia says, she'll be seen as the world's top assassin.
Anastasia throws a jab, which Kim blocks easily, then two kicks, followed by a straight left, but Kim blocks again and counters with a left of her own. Anastasia tries another left, followed by a low right to Kim's ribs, but again Kim blocks both. Infuriated by Kim smirking at her, Anastasia reaches down and draws a knife.
Kim only just dodges a sweeping downward slash, then blocks a side strike to her face and traps Anastasia's hand. Kim twists her wrist while Anastasia repeatedly punches her in the ribs. Kim forces her to drop the knife and kicks it away, but takes a haymaker leaving her stunned on her feet.
Now Anastasia is able to take her time pounding Kim with hooks and belly punches before unleashing an uppercut that drops her to her knees.
Anastasia calmly walks up to Kim and pushes her over with her foot, then applies a figure-4 sleeper hold till she loses consciousness, after which she amuses herself playing with the limp body of the world's most deadly assassin. Or so it seems – Kim's eyes snap open and she hooks Anastasia from the ground, stunning her.
Kim squats next to Anastasia and punishes her with a series of belly punches, followed by a long, painful belly claw, then drags her up by the hair. She launches a vicious knee into her stomach, followed by an uppercut and two hooks. Anastasia draws on her final reserves and launches a wild punch at Kim, who evades it, then slips a garrotte around Anastasia's neck and chokes her out.
Kim props up Anastasia's limp body and gloats at her defeat before letting it fall back to the floor and sauntering off to savour her victory.
Includes the following:
• Punches/blocks
• Kicks/blocks
• Knife attack/block/trap
• Hooks
• Uppercuts
• Belly punches
• Belly claw
• Hair pulling
• Figure-4 KO
• Long choke-out with garrotte
• Rolling eyes
• Eye flutter
• Limp body