"Bated Blonde" and "Agent Salinas Checks Out" from Velvets Fantasies
Bated Blonde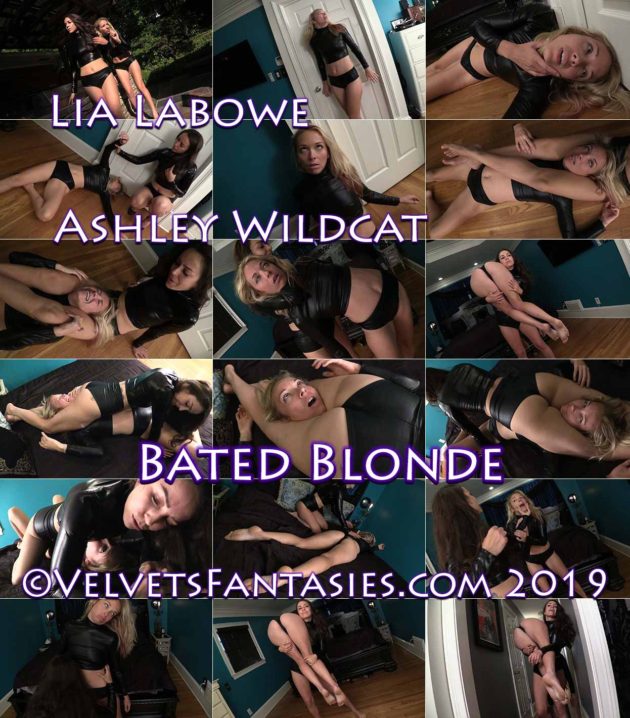 Starring Lia Labowe and Ashley Wildcat
We fade in on two stunning spies (played by Ashley Wildcat and Lia Labowe) as they break into what appears to be their target's house. But when Lia suddenly locks Ashley in the bedroom and knocks her out with a dose of sleeping gas, it's apparent that this partnership is nearing it's demise. Turns out Lia doesn't feel like she NEEDS an underling, especially one as green as Miss Wildcat, so she decides to take her down and out…but not before toying with her via a huge volley of KOs, carries, and MORE. Ashley endures karate chops, multiple scissors, sleepers, and a final punchout that leaves her humiliated and limp across her former partner's shoulder. Lia happily carries the sleeping blonde out of her perfect trap, confident that she'll always be number one!!
This movie contains sleeping gas KO, neck chop KO, multiple neck scissors KO, sleeper hold KO, multiple reverse leg scissor KO, belly punching, breast smother KO, punch KO, rag dolling, over the shoulder carries
Purchase this video at Velvets Fantasies
---
Agent Salinas Checks Out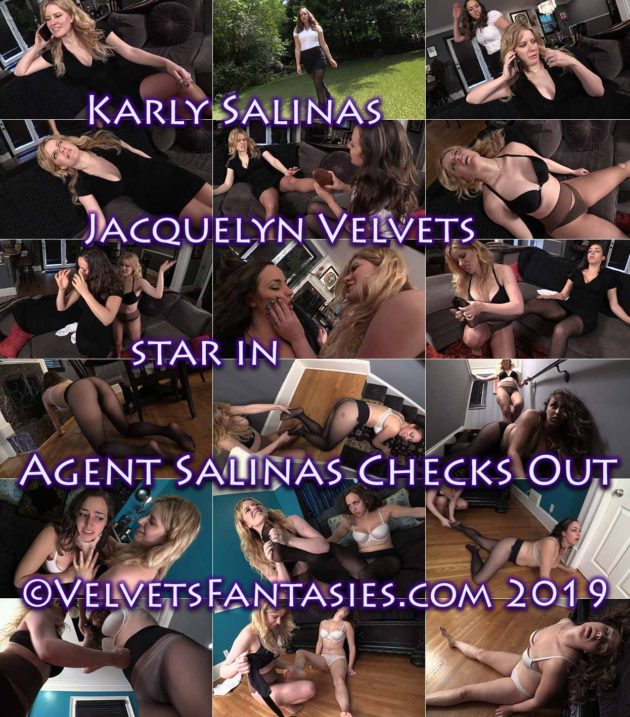 Starring Karly Salinas and Jacquelyn Velvets
Secret Agent Jacquelyn Velvets is on the phone with her boss boasting about a recent job and how easy it was to score the big heist. Agent Velvets believes she's at the top of her game, with no competition in sight, but her arrogance gets the better of her as we see Agent Karly Salinas making her way to Velvets' hide out. The rival agent makes quick use of her skills and takes Velvets out with ease repeatedly by way of neck chops and foot pressure knock outs, but Agent Velvets proves she still remains at the top of her game by over coming the other agent and knocking her out again and again, almost for the sheer pleasure of it!
In the end, not only does Agent Velvets have a cash bonus from the previous job in the bag, but now she has the mercy of one of her rival agents at her disposal, making it another successful mission for Agent Velvets!
This movie contains multiple neck chop KOs, multiple foot pressure KOs, foot pressure wake up, punch KO, uniform swapping, limp limb manipulation
Purchase this video at Velvets Fantasies