"Batgirl for Sale, vs Black Cat" from Anastasia Pierce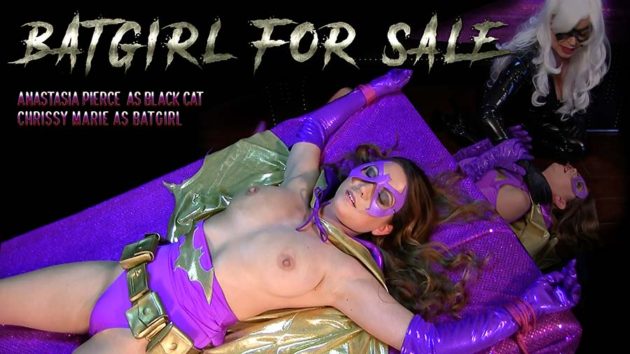 BATGIRL FOR SALE, VS BLACK CAT
Full Adventure Super Heroine Fetish Parody
Formats Available:
Full HD 1920 – http://www.clips4sale.com/5196/21596535
HD 1280 – http://www.clips4sale.com/5196/21596527
SD 720 (phone & tablets) – http://www.clips4sale.com/5196/21596623
Starring: Chrissy Marie as Batgirl and Anastasia Pierce as Black Cat
Summary: Batgirl comes to find Black Cat following rumors of illegal sex trafficking. Black cat is pleased since she is the one who has been spreading those rumors and it bought Batgirl straight to her, just want she wanted. It also happens that the sex trafficking she is doing is: selling super heroines to high bidder and someone just happen to be VERY interested in Batgirl. The two heroines will fight out their disagreement and Batgirl will soon get overpowered by Black Cat. The naughty kitten will then need to calm herself down with some masturbation after fondling batgirl but it doesn't stop there…. so much is yet to happen to Batgirl!
Plus, She wants to test the merchandise herself!
Includes: Chrissy Marie, Anastasia Pierce, Batgirl, Black Cat, Original Super Heroine costume, Catfight, Punches and Kicks, Humiliation, Long legs, Sex Slave, Masturbation, Sleepy, Bondage, Struggling, Sensual Domination, Lesbian Domination, Orgasm Control, Public Viewing, Fingering, Pussy Fondling, Overpowered, Cosplay, Parody, Sex, Orgasms, Helpless Super Heroines, Evil Super Villainess. No escape.