"Batgirl Helpless, Catwoman vs Batgirl" from Anastasia Pierce
Batgirl Helpless, Catwoman vs Batgirl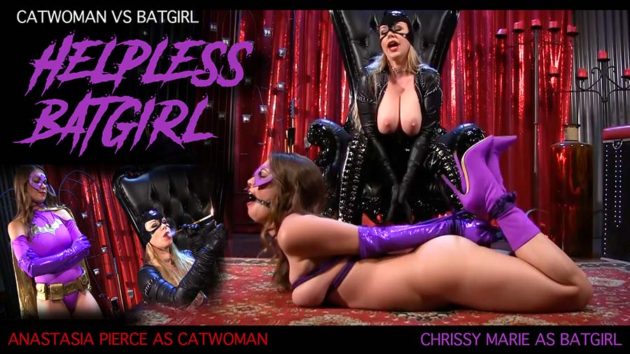 HD 1920 – http://www.clips4sale.com/5196/20621671/cid746da60019dd8524d50d0852c9
HD 1440 – http://www.clips4sale.com/5196/20621687/cid746da60019dd8524d50d0852c9
HD 1280 – http://www.clips4sale.com/5196/20621689/cid746da60019dd8524d50d0852c9
For this new adventure you will find some themes I haven't shot in a while. Smoking Villainess, sleepy and unconscious Super Heroine. Batgirl getting stripped, fondled and kissed while unable to defend herself. Then gagged and struggling for Catwoman's pleasure. Batgirl is completely helpless and at the mercy of Catwoman the entire story!
Starring: Chrissy Marie as Batgirl and Anastasia Pierce as Catwoman
Summary: Catwoman is gloating over her latest jewelry robbery. Batgirl finds the Pussy Cat in her lair but unfortunately for Batgirl Catwoman has a dirty trick up her sleeve to render Batgirl quickly helpless. Suddenly limp and sleepy Batgirl will get fondled, kissed and stripped for Catwoman's enjoyment. Unable to defend herself. Then too excited to have touched and kissed Batgirl. She will will satisfy herself with an orgasm as Batgirl still at her mercy, struggles, tied up and gagged at her feet. But this isn't enough for Catwoman, she needs to know. Who is Batgirl?
Includes: Includes: Anastasia Pierce, Chrissy Marie, Batgirl, Catwoman, Sleepy, Helpless, Limp, eye rolling, eye flutter, fondling, groping, kissing, long cigarette holder, smoking, Super Villain, hogtied, full Nudity, gagged, Damsel in Distress, Undressing, Stripping, De-masking, Girl-Girl, Fetish Parody, Humiliation, Cosplay, Super heroine in Distress.