"Batwoman Rises" from Secret Identity Films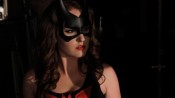 Here's a peak at a new film from a new superheroine producer called Secret Identity Films. Batwoman Rises appears to be based on a recent Christopher Nolan blockbuster and features Batwoman going up against her old adversary, Pain! Check out a trailer and more information below.
Batwoman Rises
Secret Identity Films presents its first high end heroine peril film "Batwoman Rises". In the city of Gotham, there are many heroes but only ONE tough as nails super heroine! After Batwoman gets a call to investigate a bomb threat, she is surprised by her old nemesis, the brute only known as Pain!
Batwoman is no match for Pain's trickery and after a narrow defeat she wakes up to find out who the true mastermind is! Batwoman then must pass a series of tests and challenges all while fighting against a painful fast acting virus that was injected into her. This high octane film has chloroforming, choke outs, belly punches, back breaker, needle play and of course low blows.
Can Batwoman survive all this punishment and fight past the pain of the virus? Find out in Batwoman Rises. Only Shg-Media.com