"Bullet Femmes" from Kick Ass Femmes
KIX V KARLY in an ALL ACTION epic! Agents Kix and Karly have finally tracked down a rogue agent in their midst and are going to take her in but all is not as it seems. Dressed in classic spywear, catsuits and thigh high boots, this looks like any Kandygirl mission for these two supermodel spies, that is until Karly deviously chloroforms and KOs Kix! This means WAR … Karly has been turned and Kix needs to bring her best fight to survive.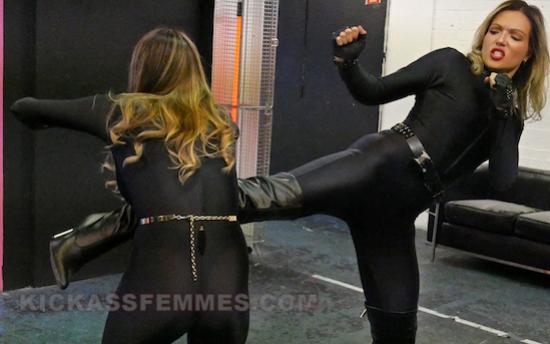 These two world class martial artists take this to another level with off the scale intensity, kickboxing, karate, total violence, incredible skills, amazing agility and a fearsome brutality, these two kandygirls knock seven shades of hell out of each other. The battle goes back and forth but which of these rock hard legendary Kandygirls will walk out alive? + ALT ENDING!
Purchase this video at Kick Ass Femmes