Burning Action – Superheroine Chronicles – Dragon Hazard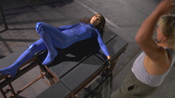 Wow, it's been a while since I reviewed a film from Zen Pictures and truthfully, that's because their recent stuff really hasn't caught my eye. That changed with the release of Burning Action – Superheroine Chronicles – Dragon Hazard starring the lovely China Kamino in the lead role.
As always, my inability to speak Japanese may hamper my ability to understand what's going on, but I think Burning Action – Superheroine Chronicles – Dragon Hazard is the classic story of an assassin turned good guy.
The film opens with a team of assassins breaking into a heavily guarded home with the intention of killing a guy. The team makes short work of a bevy of guards and succeed in cornering their target. The assassins put a gun to the head of the target's son until he gives up whatever information they are looking for. When he does, the bad guys kill him in cold blood. The assassins decide it's best if the kid dies too, but that doesn't sit well with one of the team members, played by China Kamino.
She saves the kid's life and engages one of her teammates in a fight until security arrives and shoots the assassin turned heroine multiple times. Her spandex outfit must be bulletproof because she survives and shows up in the next scene without a scratch on her.
I want to say she has no memory of who she is because she moves in with the boy and his new guardian. When the assassin team returns to finish the job and the good girl takes one down with her fighting skills, it seems to come as a complete surprise to her that she has these abilities.
The rest of the film is almost all fighting and peril. In order, there is a F/F fight, F/M fight, a scene where she in bound arms over head, and another F/M fight. As with most Zen films the peril and fight scenes are stomach-punch and knee-lift heavy. There is also an extended throat-lift scene and a KO of the heroine by punch.
I think the real selling point of this film is the lead actress, China Kamino, in her debut with Zen Pictures. She is one of the most beautiful actresses Zen has ever cast and if you are familiar with their past castings, that's saying something. She is also a high-end martial artist. Maybe not Amy Johnston high-end, but not that far off so the fight scenes are great.
This is actually one of my favorite Zen films and one of the company's better efforts in a while. I can't be sure, but I think the producers have turned their attention more to Giga than Zen. I don't know the exact ratio, but I would guess they release five or six Giga films for every one Zen nowadays. Although I much prefer the Zen content, I understand why their doing this. Business is business, and I can't blame them for going where the money is.
Buy
Burning Action – Superheroine Chronicles –
Dragon Hazard
at
Akiba-Heroine