Christina Carter in "The Cat's-Eye Diamond 4"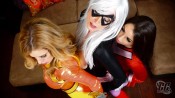 [Adults only] The Cat's-Eye Diamond 4 from Christina Carter Productions features Aaliyah Love, Randy Moore, Lola Foxx and Ms. Carter in the fourth installment of the series. There's lots of sexually explicit content here which should please fans of the Cat's-Eye Diamond saga.
–
The Cat's-Eye Diamond 4
Christina Carter Productions continues to delivers the best super-heroine peril/bondage videos in the fetish genre. In the Cat's-Eye Diamond 4 parody series super-heroines continue to go missing. Black Cat (Christina Carter) approaches Dagger (Aaliyah Love) of Cloak and Dagger about the missing heroines. With all signs pointing to Cat Woman's lair, Black Cat stealthily decides to investigate. She finds Electra Woman (Randy Moore) and Dyna-Girl (Lola Foxx) entranced by the mysterious Cat's-Eye Diamond.
Black Cat falls under the gem's spell and is soon plotting with Electra Woman and Dyna-Girl to add Dagger to the growing number of super-heroines already under Cat Woman's control. The clip features: authentic super-heroine costumes, mind control, dancing, stripping, girl-girl, kissing, fondling, oral sex, 4-girl sex orgy, double ended dildo play, fọrcd orgasm, bondage, masturbation and tribadism. Don't miss Parts 1, 2, and 3 of the Cat's-Eye Diamond parody series. And stay tuned because part 5 is already in the works.
Purchase
The Cat's-Eye Diamond
here