"Cyborgia Chapters 1 & 2" from Primal's Darkside Superheroine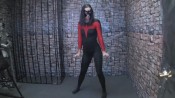 [Adults only] If you're a fan of Primal's Superheroine Secret Shame videos, you may want to take a look at the company's new video, available in its Darkside store. Cyborgia is apparently a two-part saga which involves both the capture and "robotification" of the Crimson Bat.
THE CAPTURE OF CRIMSON BAT-ENCOUNTER WITH SOULLESS
The vigilante superheroine Crimson Bat has been on the trail of the sadistic villain Soulless. She has employed unspeakable means to break into his network and gather the information needed to track him, but now the hunter has become the hunted as she can practically feel Soulless' icy breath on the back of her neck.She turns to confront him, seemingly overconfident in her strength and skill as so many superheroines have before when facing the lethal leather clad larcenist. She lands the blows but she is soon crushed by Soulless who has her in a neck crushing throat lift.
She gasps out "I'll suck your cock"
Souless laughs, and lets her down, superheroines always end up on their knees before him. He was going to finish her with the throat hold, but his vile semen is more than deadly enough to put an end to Crimson Bat, and it will be even more pleasurable this way
Crimson Bat desperately pulls out the villains cock and begins to suck for all she is worth. Soulless laughs at her, looking forward to the look of terror she'll have when his venomous cock releases its deadly load.
But something is wrong, the room is spinning and his legs are weak, before he knows what is happening he is on his back and Crimson Bat is laughing at him. SHE HAS THE POWER TO SUCK THE STRENGTH OUT OF ANYONE AND STRIP THEIR POWERS!
Soulless tries to fight back but Crimson Bat pins him down with her foot on his throat and he is helpless and the "superheroine" uses her vampire powers to suck him dry. the last thing he sees is Crimson Bat smiling as she swallows his poison cum like a delicious snack
AMBUSH – Crimson Bat is feeling very satisfied. Soulless is on life support in state custody and she is feeling stronger than ever. She is looking forward to a nice work out and yoga session. Absorbing so much evil strength requires that she re-achieve her inner balance. She admires how great she looks in her costume, posing and flexing, then she strips down to admire her fully nude body, marveling at her own powerful muscles. Finally she changes into her yoga clothes and admires herself a bit more.
Now she is just Wenona, a somewhat vain yoga instructor that has a taste for dating rich men and spending their money. Only constant effort and mediation keeps her hunger to drain everyone one around her of all they have at bay. Having been bitten by a radioactive vampire bat gifted her with amazing abilities, but also with terrible hunger.
Wenona goes through a very athletic yoga routine when she senses she is not alone. She-Borg has entered the room and identifies her as Crimson Bat! Wenona is shocked, and the opponents begin to circle each other. Her strength sucking abilities won't work on a robot and although she puts up a fight, Wenona suffers a CRUSHING beating and defeat at the hands of She-Borg
ROBOTIFICATION OF CRIMSON BAT
THE PROCEDURE Crimson Bat wakes up in the lab of Dr Dementia. He explains that he is going to transform her into another creation like She-Borg, He will have his robotic reaper inject her with nano-bots that will spread through her entire body, altering her one cell at a time. But first he must prepare the entry way and he forces Crimson Bat to cum over and over until her wet orgasms soak through her tights. The doctor wants Crimson Bat to survive the experiment so he gives her high doses of oxygen and a calming agent. Crimson Bat is so worn out that she loses consciousness
Now she is stripped and exposed, totally helpless as She-Borg thrusts the nanobot injector deep inside her vulnerable pussy. She-Borg pounds away with robotic apathy making Crimson Bat cum despite herself. The power and rhythm of She-Borgs thrusts are irresistible and even unrestrained she hasn't the will or strength to escape. As she has one final orgasms she feels the nanobots shoot into her pussy and she goes out.
Wenona/Crimson Bat no longer exist, now in their place is Cy-Borgia, as strong and invulnerable as She-Borg but with the power to absorb the strength out of opponents and strip their powers
The murderous machines first target is the mighty UltraMan. Cy-Borgia lures him into a trap using Crimson Bat's memories and voice. UltraMan is momentarily surprised but he isn't afraid of a mere robot, however Cy-Borgia is not alone and together She-Borg and Cy-Borgia devastate the hapless hero
Broken and beaten UltraMan is helpless has he is held down and Cy-Borgia rides his supercock. He can't stop his erection and even when She-Borg gets behind him, holding him in a choke hold while forcing him to thrust his cock in and out of Cy-Borgia's powersucking pussy he can't go limp. Finally he loses all strength and Cy-Borgia sucks everything he has into her pussy. With no emotion Cy-Borgia rises and leaves the hero for She-Borg to dispose of.