"Devon Dauntless vs. Leech" from PKF Studios (Guest Review)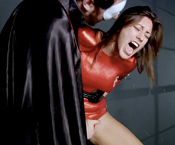 [Adults only] Here's a guest review of Devon Dauntless vs. Leech from the guy who ordered it—Descendingskulls, a reader with whom many of you are likely familiar. This custom video is produced by XXXTREMECOMIXXX, a branch of PKF Studios, producers of some of the darkest fare you're likely to come across in your internet journeys. Thanks to Descendingskulls for this review!
Guest Review by Descendingskulls
I always wanted to commission a custom (who doesn't?), and I finally had the extra money to do it! Since opportunities like these don't always come along, I decided I had to make the custom exclusively tailored to my tastes. That said, I think you will find things about it you'll like too. If you don't know me, I like dark and tragic superheroine movies, particularly ones where the heroine dies. That said, there are two versions of this movie – one ends in her death, and in the other the heroine is weakened but survives. But they are both dark. Be warned that the following is full of spoilers.
So I sat down one day to write the script and decided it would be on a type of peril that I've only seen covered a few times, and never very well. The peril is a combination of power-absorption, soul-vore, and molestation. I decided that the villain's power is to absorb the super-powers of superheroines through openings in their body, giving him good opportunities for very productive groping and sucking, and for dramatic reactions from the heroine. The heroine's powers are connected to her costume. If enough of her power is drained, her suit explodes, leaving her naked. I have seen similar before, but I wanted to take it a step further. With a certain orifice now particularly exposed and vulnerable, the perpetually hungry and sadistic villain can then absorb what's left of her strength by tapping into her basic life-force, and even kill her this way if he chooses.
Ok, so that's sorted out. Now to flesh it out. Devon Dauntless, Cocky heroine in leggy costume. Her super-power is super strength. Indomitable spirit. Open with her at home on her computer, recounting how the villain 'Leech' killed her comrade Rebecca Rush and gained her super-speed power. Devon is out for revenge, but she's also on the menu herself. Shots of her creeping around entering his lair and confronting the sadistic villain Leech. I wrote details about camera angles, close up detail shots, dialogue lines, fight choreography, internal monologue, and of course groping positions for the power draining attacks.
I included two low-blows in addition to punches, kicks, manual restraint, one brief KO and a second much more permanent KO. Basically she would overpower him at first and taunt him, but he would turn the tables with a cheap shot and become increasingly more challenging as she became increasingly weak from him draining her powers. Despite being weakened, Devon has strong spirit and can summon additional strength and courage even when the chips are down.
So, I finished the script and began shopping it around. I tried many producers you all are very familiar with, but none of them worked out for various reasons. Some were unavailable, some had models that weren't comfortable with the content, etc. It's possible some producers were simply not interested because the concept might not have seemed broadly marketable. Including sexual contact and death really narrows the field.
I ended up getting in touch with John Marshall who owns PKF Studios. The studio has several different sites, among them XXXTREMECOMIXXX run by Alex Dorian, which caters to superheroine and fantasy content. The other sites focus on normal human heroines and have a horror porn vibe. The PKF sites have been on my radar for some time, and I have even bought a few of their movies in the past and liked their style.
John kept me engaged via e-mail, reading my script and talking me through the choices and various stages, which included having to recast the heroine and the villain once or twice, despite being a very busy guy. John decided he would direct my custom himself (with Alex Dorian as assistant director) to ensure the dark vibe I wanted, and even though my script was probably way more detailed than most, he said he would try to follow all the details as best he could. The inclusion of the head director and my detailed script made the custom cost more but I decided to go for it.
To my surprise and with no warning, XXXTREMECOMIXXX decided to film the Rebecca Rush backstory story as a lower-budget prequel! So I got a second video that fit with my story for free! How cool is that?
Fast forward a few weeks or months and the Devon Dauntless film is finally released! And it was exactly what I wanted. He included all of my camera angles, about 95% of my dialogue all verbatim, and surely 100% of my choreography and poses. He successfully directed the lead actress to be playfully taunting when dominating the villain and to remain angry and defiant when being attacked and even when in pain. He made sure she was very vocal. He included the internal monologue lines. He added special effects when appropriate. The fight scenes are full of energy and desperation.
There is a scene in particular where Devon is being molested and blasts the villain off of her with a powerful shout. Watch her expression gradually change to fury just before the shout. Magnificent. He took my very detailed script and brought it to life. Watching it for the first time was a pure adrenaline rush for me and I had a huge smile on my face the entire time. I could not be happier. This was not consciously intentional on my part, but the end result reminds me of some of my favorites from early SHC, but without the narrator and the low-res camera. I say that because of the set, the costume, the lighting, and the heroine's exquisite agony.
Despite probably being a virtually unknown to most on this forum, John M and PKF have over 40 years of experience filming. However they are relatively new to the superheroine niche, and to be honest I had some doubts as to how they would pull it off, but it just goes to show you that you never know. They exceeded my expectations and I'm glad I put my faith in them. Anyways, I know it was custom tailored to my tastes, but I hope some of you enjoy it as well.