Discover movies from Primal's Disgraced Superheroines
Primal's Disgraced Superheroines is the top store on Clips4sale which offers a great collection of superheroine movies. This time the power is on the dark side. Superheroines is being tricked, bounded, and following orders from super villains! Exciting scenarios features mental domination and magic control, battles and bondage scenes. You will enjoy great performances from gorgeous Lily Lou, Penny Barber, Melissa Moore, Alex Coal and many other sexy heroines!
Check out the following movies and visit Primal's Disgraced Superheroines to find your favourites!
Wonder Woman – Tricked and Tied by Her Own Lasso
Click here to watch the full video on clips4sale.
"Wonder Woman – Tricked and Tied by Her Own Lasso" is the latest scene from the store where Wonder Woman (Penny Barber) tricked by the photographer. He makes her follow his orders, and she does exactly what he wants… More details is in the producers description below.
Lenght: 53 min, Price: $39.99
From the producer
Wonder Woman has agreed to an interview and photoshoot with a well known publication. Oddly only the photographer is there. He says a few things that are suspect but WW assumes he is nervous, being that he is clearly a nerdy fan boy. When he takes the first picture WW is blinded and in a flash she is bound by her own lasso. Tying knots faster than a speeding bullet wouldn't seem like a superpower but in the right situation it is just what the evildoer needed. First, He makes WW pose provocatively. Second, She dances. Third, he makes her masturbate, then when she is about to cum he makes her stop and admit that she wanted to cum before making her masturbate again. Fourth, he makes use a vibrating wand for more intense orgasms. Fifth, After more admissions he makes her use some imposing spinning vibrating dildo to fuck herself. Sixth, she sucks his cock with more admissions. Seventh, he fucks her with more admissions. Eighth, she finishes him with her mouth. Finally he makes her pose with a cum covered face.
Black Lightning – Captured and Drained by Livewire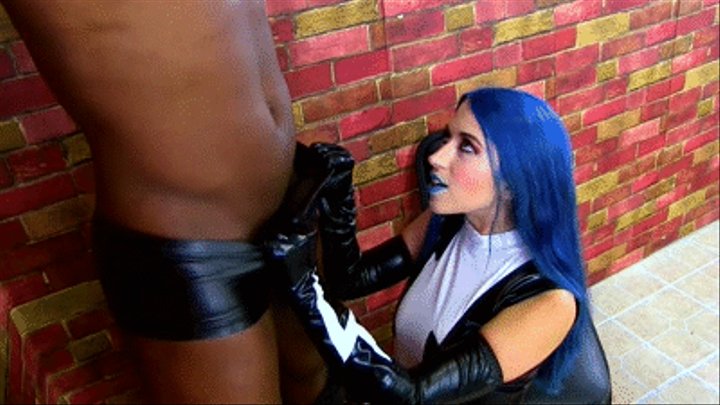 Click here to watch the full video on clips4sale.
Featuring Alex Coal.
Lenght: 41 min, Price: $29.99
Description
Black Lighting finally has a lead on where Tobias Whale has been hiding, however instead of his arch-nemesis he is confronted by Livewire! Black Lightning steps back, he knows his electric powers are worse than useless against the insane super-villainess. His only choice will be to use brute but, she is still a woman, and a third his size. Finally he has no choice but Livewire is ready for his and uses her powers to drain his strength until he is out.
Black Lightning wakes up stripped and shackled, he is too weak to escape and Livewire begins to tease and seduce him. She might be out of her mind, but Livewire knows how to turn a man on. She plans to drain Black Lightning will and his powers. As much as he tries to resist Black Lighting surrenders to the villianesses mouth and tongue.
Black Lightning has almost no strength left and barely any will to resist. Livewire teases and dominates him sensually and then uses his huge hero cock for her own pleasure before him to fill her with his cum, and the last of his power.
Wonder Woman – Set Up and Taken Down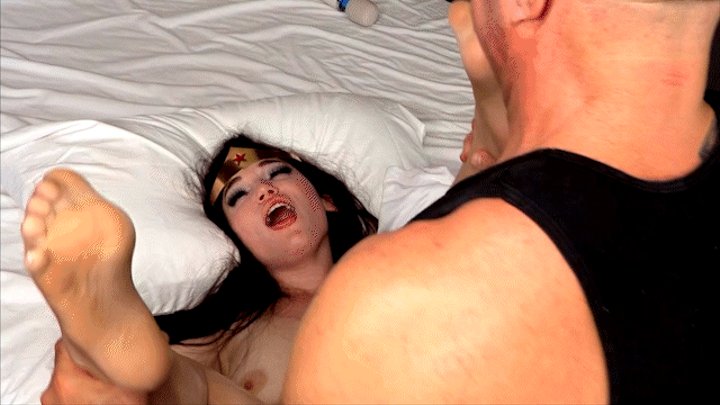 Click here to watch the full video on clips4sale.
Wonder Woman (Lily Lou) is on her mission. As soon as she enters the room she understood this is a set up. But being confident in her super power she is absolutely sure that nothing can take her down, even the teleporting hitman. He appears out of nowhere behind her back, grabs her and puts his hand over her mouth. She understands that he uses some kind of power to knock her out. She isn't ready for her face and head to by engulfed in a"confusion cloud" and finds herself helpless and used. Once evil hitman is sure that she is powerless and submissive, he took her clothes off, took his massive cock out and put it in her mouth. Wonder Woman is too weak to resist, she just does what her new "master" desires now…
Lenght: 60 min, Price: $39.99