Electro Girl Beat Down from Anarchy Films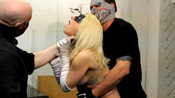 [Adults only] Anarchy Films, creators of X-Girl and Heroines of S.W.O.R.D, have released a new beatdown-intensive video involving a superheroine called Electro Girl who finds herself surrounded by evil henchmen as her powers are being drained. Check out images and a synopsis below.
Electro Girl continues to fight against evil where ever it hides in Metro City. Yet, she is in trouble and has been captured by the evil Kingpyn and his henchmen. With her powers slowly draining away, she must fight to stay alive and not cross into the darkside. While being interrogated and must endure multiable attacks from henchmen, Belly punching, Brief spanking , low blows, unmasking, bondage and finally she is taken by one of the henchmen in a very naughty way. Will she survive? Will she cross into the dark side? Will she be able to fight off her attackers and continue to protect Metro City? Total running time of 25min.