"Fail-Safe Sisters: Carmen Black Ambushed" from NGC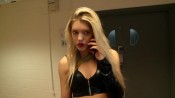 We've been waiting a long time to meet the fifth Fail-Safe Sister, and now our patience has been rewarded with another typically great Next Global Crisis casting. So, let's dive right in to the review of episode twelve of Fail-Safe Sisters (along with images and a trailer below).
[Spoilers] Right away we meet Carmen Black III, played by Sophie Rankin, who is in communication with her regiment. After delivering some orders to her people, she is taken by surprise by Bullettt who lands a hard punch that drops her to the ground. Bullettt keeps control of the fight for several minutes as he delivers a bevy of knee lifts to her gut, throat lifts her off the ground, lifts her in the air by the back of her neck, and delivers several punches to her face and stomach.
Bullettt goes for the kill with his trademark optic blasts but Carmen uses her power to transform into an almost statue like state that doesn't allow her to move, but makes her essentially invulnerable to physical harm.
Bullettt tries another blast that is also ineffectual and when he gets close enough, Carmen transforms back to her normal form and rocks Bullettt with an uppercut. Carmen hits a few more blows but Bullettt regains his momentum. He lands some hard shots and a chop to Carmen's throat. Carmen answers back with a head butt that seems to hurt her more than Bullettt and this is where I have to stop giving specific spoilers because the story forks here.
In one ending, Bullet wins the fight with a hard stomach blow and a reverse bearhug that knocks Carmen unconscious. In the other, Carmen knocks Bullet out with several powerful punches. Which ending is canon will remain a mystery for now. That is until someone spoils it in the comments section
I always like when NGC introduces new characters, especially ones who look like Sophie Rankin. She is everything you want in an actress that plays a superheroine. Beautiful, talented, and a very capable stage fighter. She also has the sexy accent thing going which I always love. I just think she has a real "wow" factor about her. And I don't use that term loosely because the last actress that I thought had that going for her was Tia Meddins who plays Lucy Zillion, my favorite FSS character.
I like where this series is headed. In the last few episodes the story has really taken shape. There's been great victories, terrible defeats, and the death of a major character. I think its been just as engaging as the stories set in the normal NGC universe and I can't think of a better compliment that that.