"Femme Sinners" from Kick Ass Femmes
LARA and LUNA go head to head in FIERCE, BRUTAL BATTLE!  When the City's go-to Superheroine collects an award from a Millionaire Socialite little did she know it was a trap and she was about to drugged and beaten in a dark battle of revenge!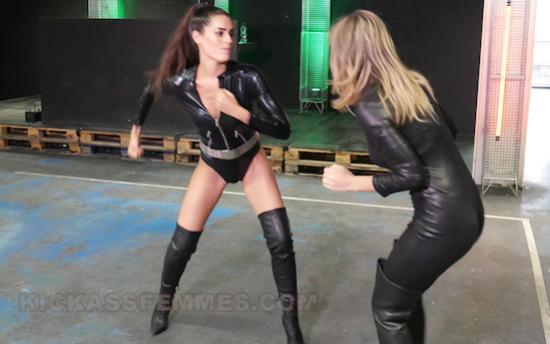 Dressed in leather catsuit and thigh high boots, Lara's super powers are stolen and this previously impregnable Heroine get's a brutal beatdown from the beautiful but deadly Socialite Luna. This is the ultimate battle of good v evil and of power vs character as both girls, skilled and deadly in unarmed combat, high kick, karate chop, kick box, punch and throw each other around the arena. It's a fight that goes back and forth with twists and turns and surprises in an end to end battle for supremacy. 2 stunningly beautiful women but only one winner…. who will it be?
Purchase this video at Kick Ass Femmes