"FemmeZilla" from KickAssFemmes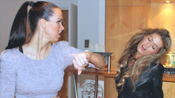 KickAssFemmes has released a new episode, which can only mean it's time for another euphoric KAF review from yours truly. And another episode where poor Cat gets her ass kicked. Let's take a closer look at FemmeZilla. 
Cat is on the trail of Clubber Thong and finds her in a sweet looking apartment/loft. Cat pulls a gun only to be punched in the face and stomach several times by Clubber. Cat does hit some shots, but Clubber takes back control and quickly disarms Cat. But Clubber puts the gun to the side and keeps things physical. She breaks out of a choke hold put on by Cat, knees her in the gut, and hits several punches to the face.
Cat retaliates with two punches to the face that Clubber doesn't seem to even feel. The fight moves into the kitchen and Clubber again controls the action, although Cat does hit several stomach punches in one exchange. But Clubber catches a punch and takes it to Cat, eventually knocking her out with leg scissors.
Clubber lets Cat recover and when Cat does, she pulls a knife out. But she doesn't do much better with it as Clubber dodges several strikes and disarms Cat. And at this point, Clubber really starts to take it to the Kandygirl. She hits more stomach punches and kicks, gets locked in a test of strength, and the fight ends when Clubber knocks out Cat for a second time with a hard kick to the face. Clubber then calls a mystery person and lets it be know that she has Cat. Who is the mystery person on the other end of the phone? Don't know. Guess we will find out in Part 2.
This is the first of two releases from our producers in the UK this weekend that feature a taller, stronger villainess taking on a smaller heroine, a scenario that I love. Although this isn't a total beatdown, Clubber does control the fight I would estimate a good 75% of the time. The episode itself is a quick one, clocking in at right around eight minutes, but it's a fun eight minutes.
Clubber is a strongly built, yet beautiful enforcer, and she makes for a great villainess. And Cat just remains one of the most beautiful women I've ever laid eyes on and she really needs to win a fight soon. And I might be the one that makes it happen as I have had very preliminary discussions with Kandyman about a Cat custom. That would make three for me, and I've never been anything but overjoyed with their work. If you are interested in a KAK/KAF custom, send Kandyman a note here: https://kickasskandy.com/custom/.
Also a quick note that this is a film heavy on stomach punches. So readers who like that may want to give this one some consideration. This film was just another winner from what has become my favorite website that we cover here. Bravo, Kandyman. Keep them coming.