Firestar in "Training Day!" from Sleepy Superheroines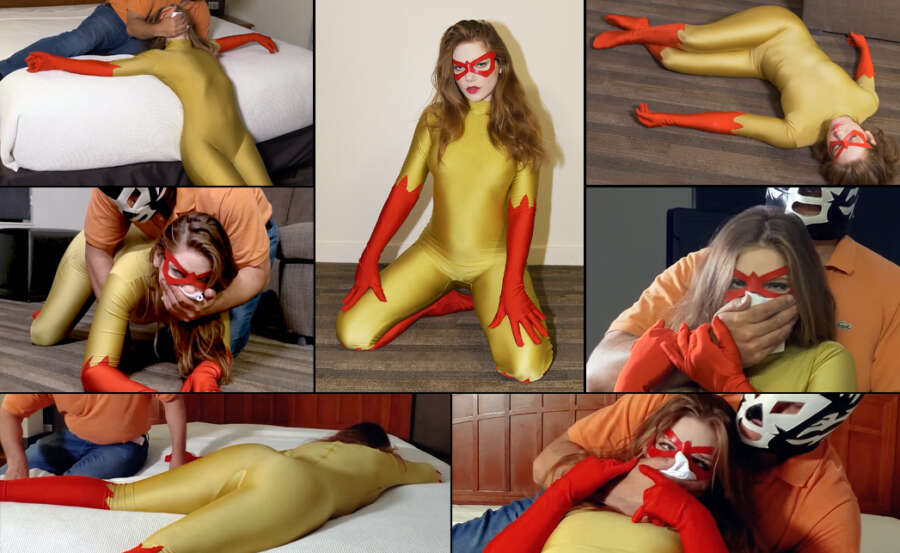 Firestar – played by the seductive Misty Lovelace – returns in another thrilling adventure, dressed in her skintight yellow suit that hugs every contour of her body. After a humiliating defeat by the devious Trickster, Firestar finds herself back in training school, where she faces yet another challenge. This time, however, things aren't quite what they seem.
Her instructor takes his role very seriously – perhaps too seriously. Dressed in full Trickster regalia, his methods prove to be "unconventional" as he resorts to using real sleeping gas and chloroform to keep the feisty heroine under control. With each failed attempt to take down her "instructor," Firestar finds herself increasingly vulnerable to his manipulative tactics.
Unbeknownst to Firestar, she has fallen prey to the Trickster himself, who has disguised himself as her instructor in order to torment her further. Will Firestar be able to break free from this twisted game or will she keep succumbing to the Trickster's sleepy tricks? Find out in this latest release from Sleepy Superheroines.
Video contains multiple chloroform KOs, muliple gas KOs, multiple electric KOs, butt spankings, limp play, and over-the-shoulder carries.
Available Now/Watch Trailer: https://sleepysuperheroines.com/firestar-in-training-day/