"Fly Trapped" – New Video from UltraHeroix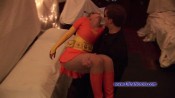 Looks like UltraHeroix has returned with the release of a new video called Fly Trapped. The story concerns a new Dynafly and her battle with the villainess Spydra. Things apparently don't go very well for our heroine. Check out images and a trailer below.
There's a new Dynafly and she is determined to succeed where her predecessors failed. Spydra, on the other hand, has plans of her own.