Heroineburgh Episode 11: Doctor, Doctor (Arogya vs Chlorina)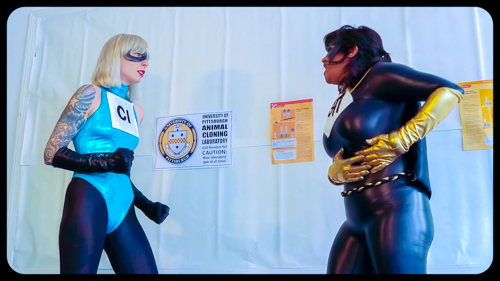 Now available for Winter 2018: Episode 11 from Heroineburgh! Episodes 11-13 complete Season One.
Heroineburgh is a PG-13 live-action superheroine video series based in Pittsburgh, PA. The first season (13 episodes) creates an entirely new universe, revealing the origins of 20 superheroines who gain their powers from a dark-energy meteor bombardment. Eventually, they form a League to battle forces arrayed against them in the city and across the nation. The superheroines represent various ethnicities, professions, sexual orientations, subcultures and neighborhoods in Pittsburgh, with many real locations used for film shoots. Action, comedy, drama and combat, all in the finest spandex!
Season One with all 13 episodes is now on sale at HEROINEBURGH (http://www.heroineburgh.com) in the Video Store. Price is $7.99 each, and the videos range in length from 25 to 40 minutes, with an average of about 30.
Here is the trailer for Episodes 11-13. A short description of Episode 11 follows below.
EPISODE 11: DOCTOR, DOCTOR (AROGYA VS. CHLORINA)
Dr. Maitreyi "Marty" Gupta and Dr. Claire Morena are postdoc interns in genetic biology at the University of Pittsburgh. Marty turns down a proposal from Claire to collaborate on a human cloning project. That night during the meteor bombardment, Clare wakes up with the power to emit toxic gases that poison the mind, and becomes the vindictive Chlorina, taking over the lab for her unethical experiments. Meanwhile, Marty discovers that she has the ability to alter biological tissue. Inspired by the legend of a Vedic god from her Hindu heritage, she becomes the brave superheroine Arogya the Healer. Can Arogya free the lab techs and stop Chlorina from carrying out her evil scientific scheme? And what's the secret of the unholy alliance between Officer Mark Drake and the smoke-shrouded villainess, Vaporia?
Theme: Genetic Biology, Human Cloning
Elements: Tight Costumes, Masked Heroine, Indian Heroine, Caped Heroine, Vindictive Villainess, Masked Villainess, Villainess in Tights, Exciting Transformation Sequences, Costume Reveal, Healing Powers, Toxic Poison Powers, Male on Female Restraint, Female on Female Combat, Belly Punch, Knockouts, De-Powering, Bondage on Table, African-American Villainess, Romantic Relationship.
Episode 11 is now on sale at HEROINEBURGH (http://www.heroineburgh.com) in the Video Store.
Below you'll find some stills from Episode 11 and some behind the scenes shots as well!
————————————————————————————————–
She's no longer merely Dr. Claire Morena – now she is the toxic villainess, Chlorina!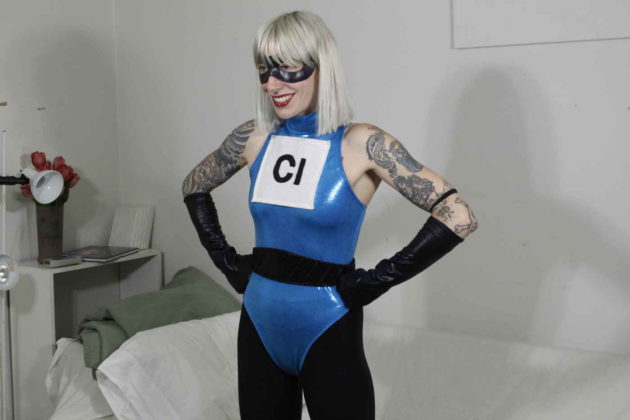 Arogya stands in front of a knocked-out Chlorina, whom she is studying to learn her genetic secrets.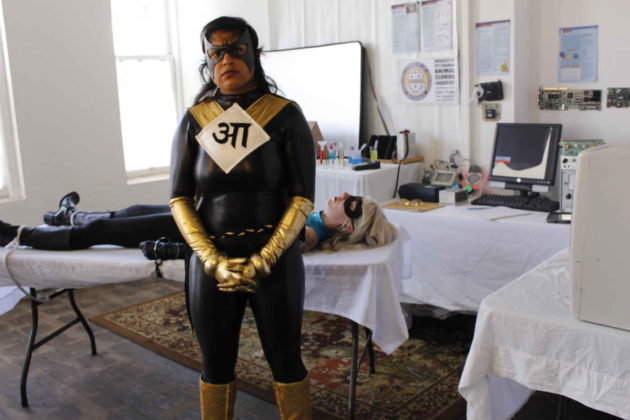 Chlorina lies sprawled out on the floor after being knocked out by Arogya's pain shock.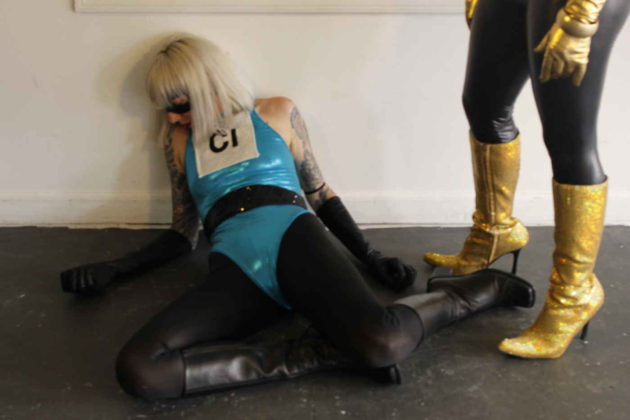 Arogya found it necessary to knock out Chlorina with shocking pain to end her reign of terror. FX were added.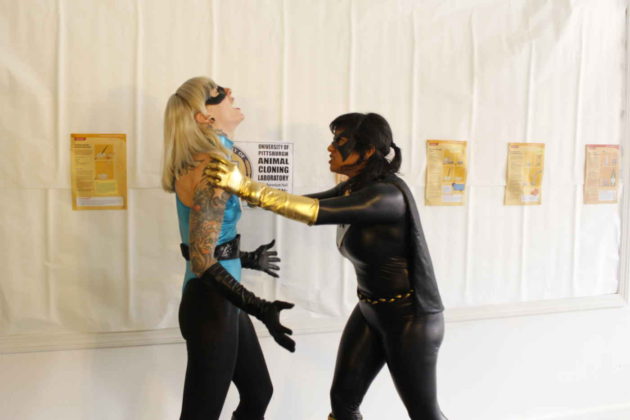 By the power of the Vedic healing god Dhanvantari, Doctor Marty Gupta has become…Arogya!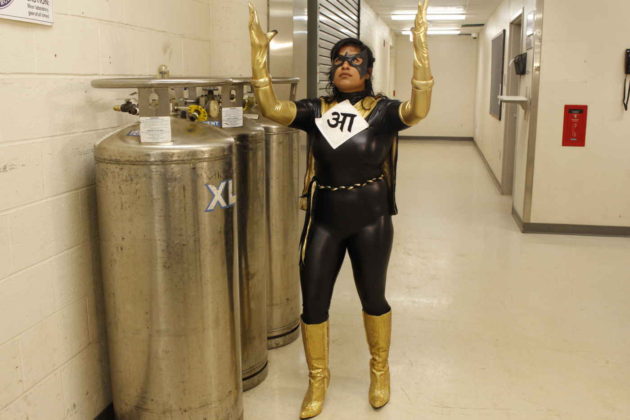 Arogya is looking down at Chlorina's unconscious form, trying to decide what to do next.
The lab technicians have Arogya pinned down, at the behest of the villainess Chlorina.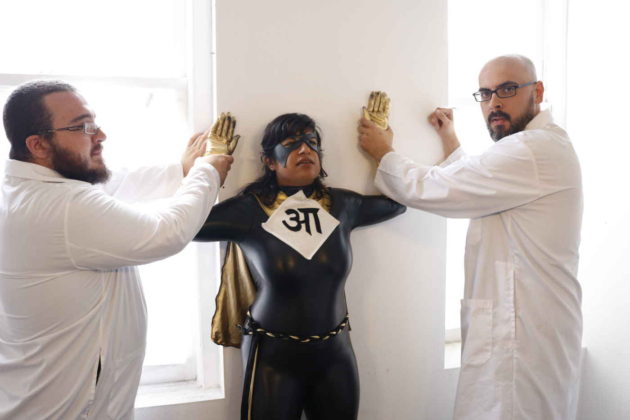 Close-up of the determined Arogya after her first transformation, ready to spring into action!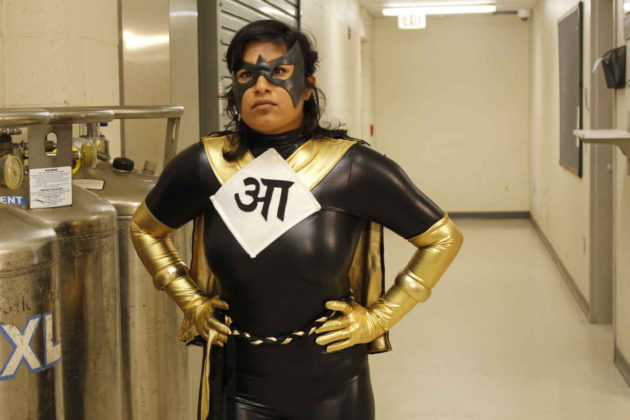 Shani and Sarah W are roommates! They did a great job in this episode.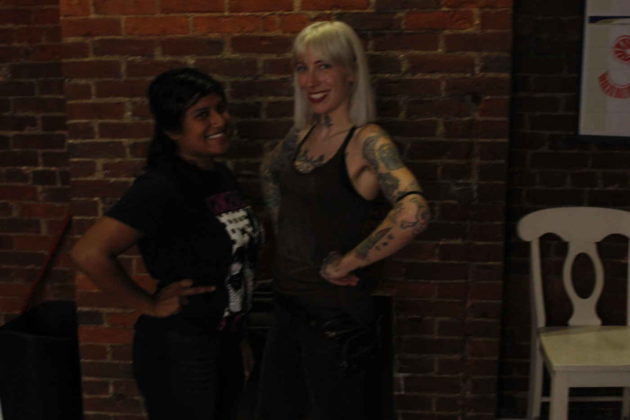 Shani (Arogya) and Sarah W (Chlorina) at the photo shoot before the chest logos were added to their costumes.
We also decided to change a few other things with the costume elements – see if you can spot the differences!
Behind-the-scenes shot from an on-set cellphone. Setting up for the knockout shot.