Heroineburgh Episode 21: Cities in Dust and Issue #3
Heroineburgh Episode 21 , "Cities in Dust" – the grand finale of Season 2 – is available now to download at http://www.heroineburgh.com/season-two-video/ . It's a double-length epic extravaganza clocking in at 53 minutes! And we also have Issue #3 of the comic available (see below). Here's the Episode 21 trailer:
And we can confidently say that it is a record-breaker: the largest group of superpowered female characters to ever appear in a single entertainment vehicle! (film or TV).
Synopsis:
Dark Spectra recruits Kaliyuga as her second-in-command for her group of powerful supervillainesses, the Black Faction. Serpenta gives herself a sensuous power upgrade, also joining up with Dark Spectra.
Then the Faction launches a vicious surprise attack on the Heroine League in their own headquarters, in a brazen bid for total control of the Steel City.
Who will win this epic battle of good and evil, and will anyone else switch sides?
Meanwhile, which side will Black Faction originators Drake & Vaporia ally themselves with?
And what role will mysterious new heroine Vigilanta play in future League leadership?
Starring: Erika, Sana, Jessica B, Jessica R, Mauricia, Bridget, Sasaya, Myone, Heather, Kristin, Tiffany, Taylor, Maura, Indigo, Erik, Stephanie, Sheryland, Gabriel, Stacy, Sydney, Alicia, Milo, Christina, Ruby, Elizabeth, Ben, Josalynn, Mary Beth, Laura, and the city of Pittsburgh!
Some elements include: Heroine transformations; Mind control; Throat lifting; Female domination; Female on female combat; Kidnapping; Flirting; Lesbian kissing; A dozen knockouts!; Power draining and weakening; Super-breath; Turning evil; Tight shiny spandex and capes galore; lots of campy over-the-top dialogue (holy priceless collection of Etruscan snoods!) and plenty of fun Special Effects. It's all PG-13.
It's action, adventure, drama, and a bit of romance and campy humor, all in the finest spandex and capes! All available at http://www.heroineburgh.com/season-two-video/ .
And now, on to the fabulous Episode 21 stills!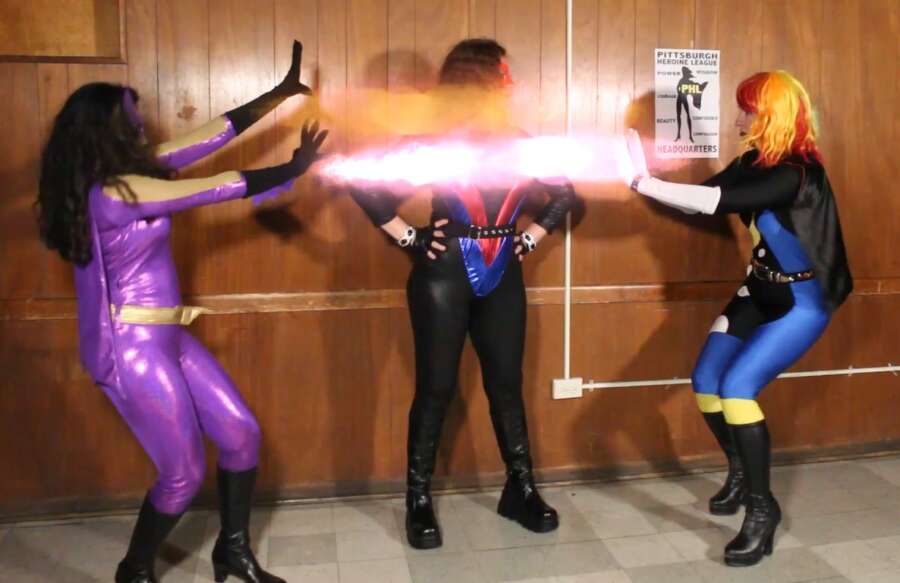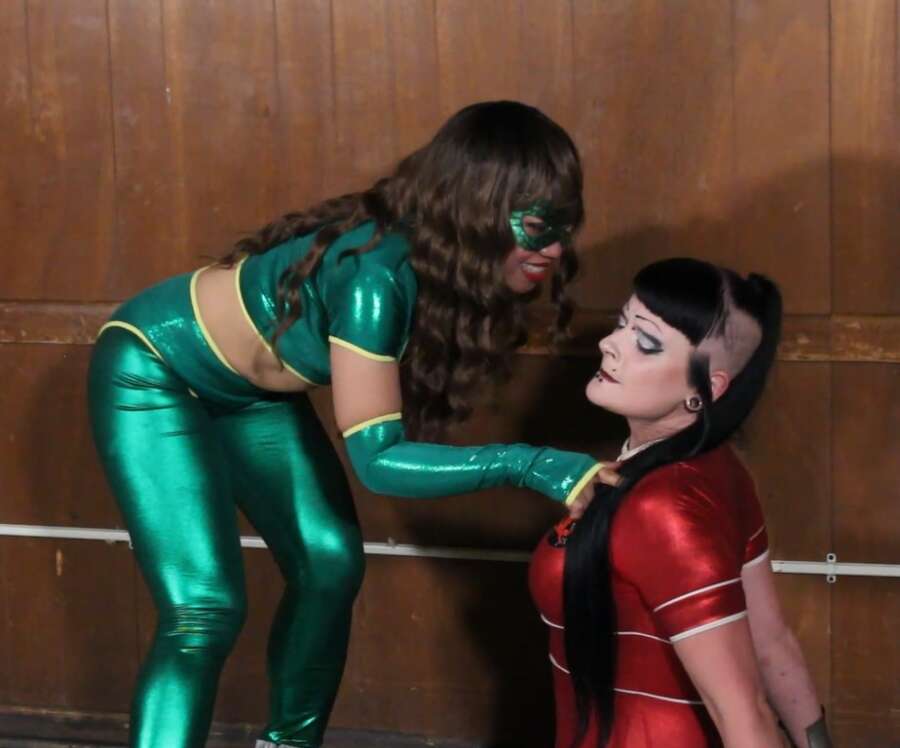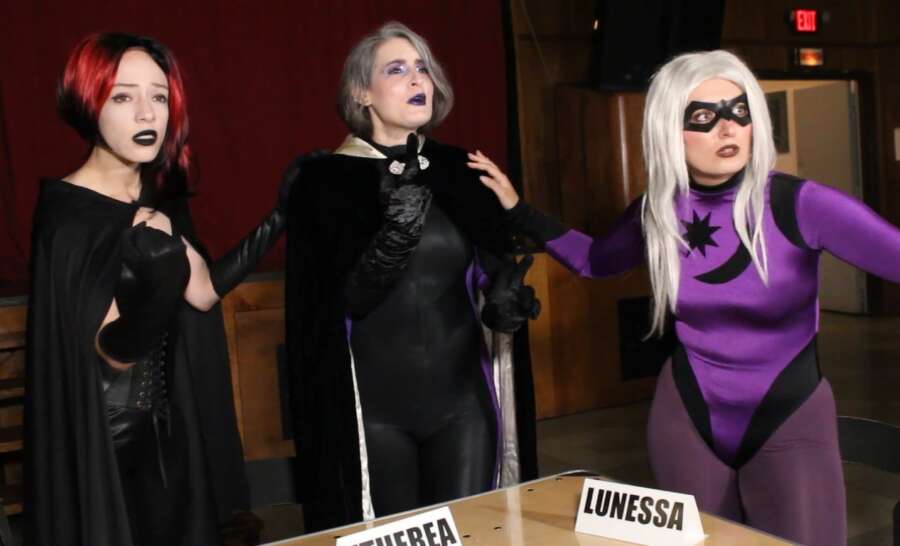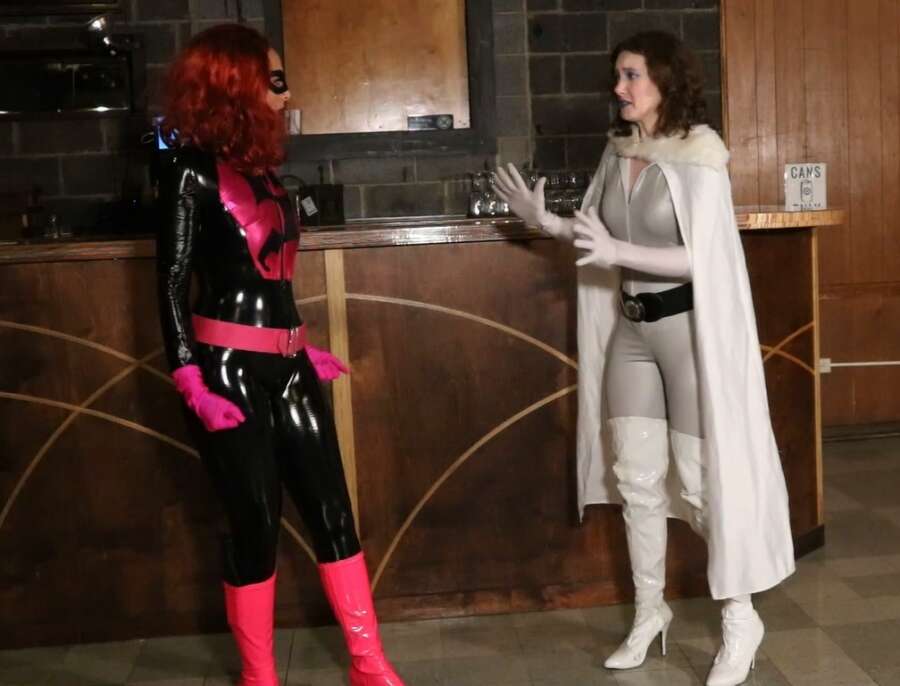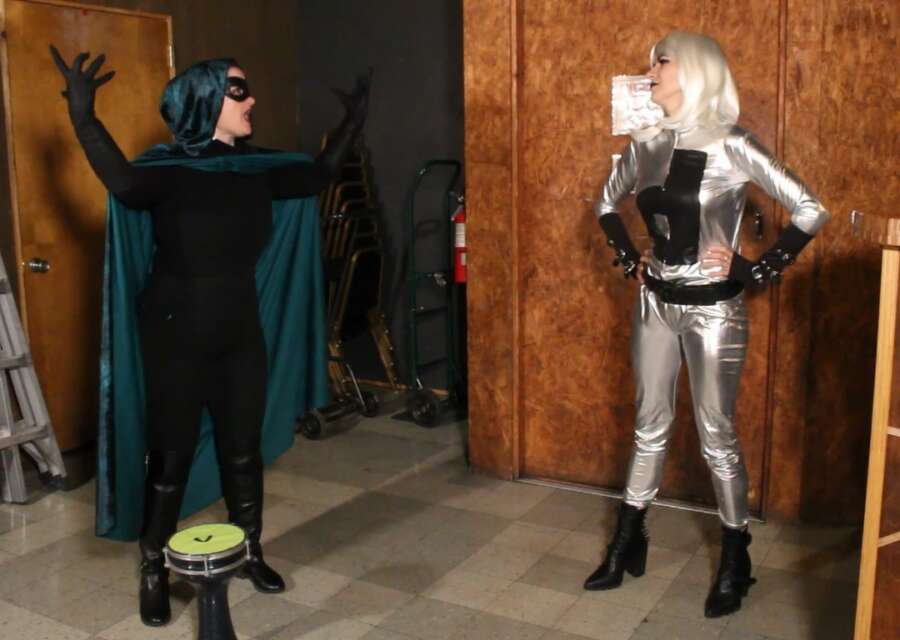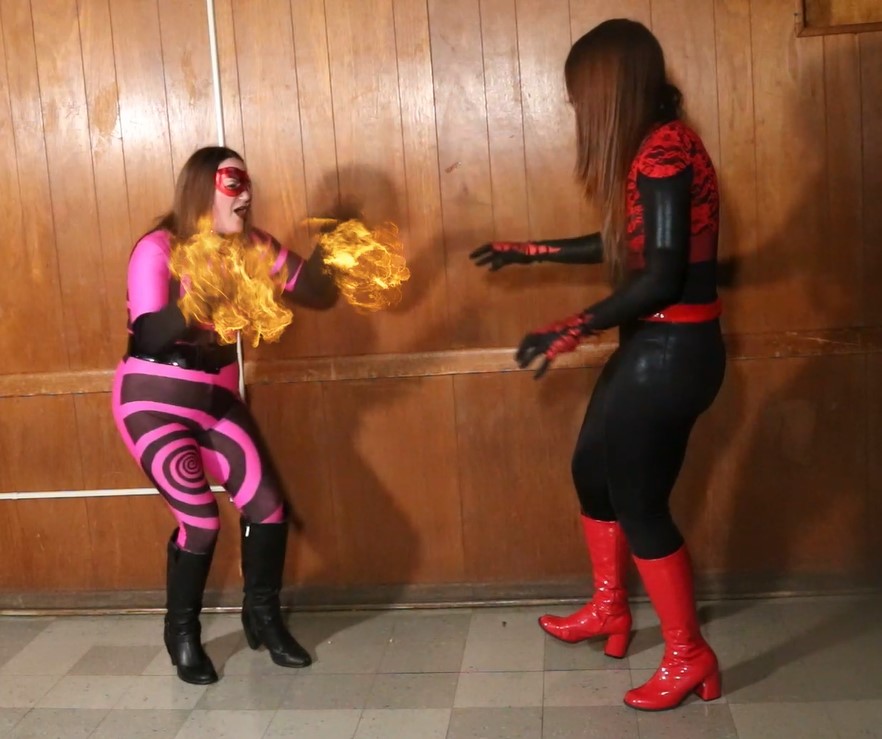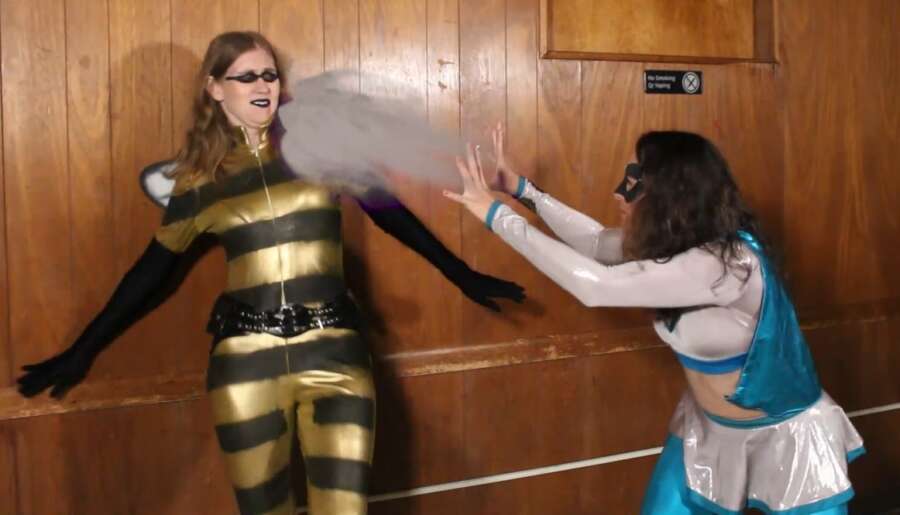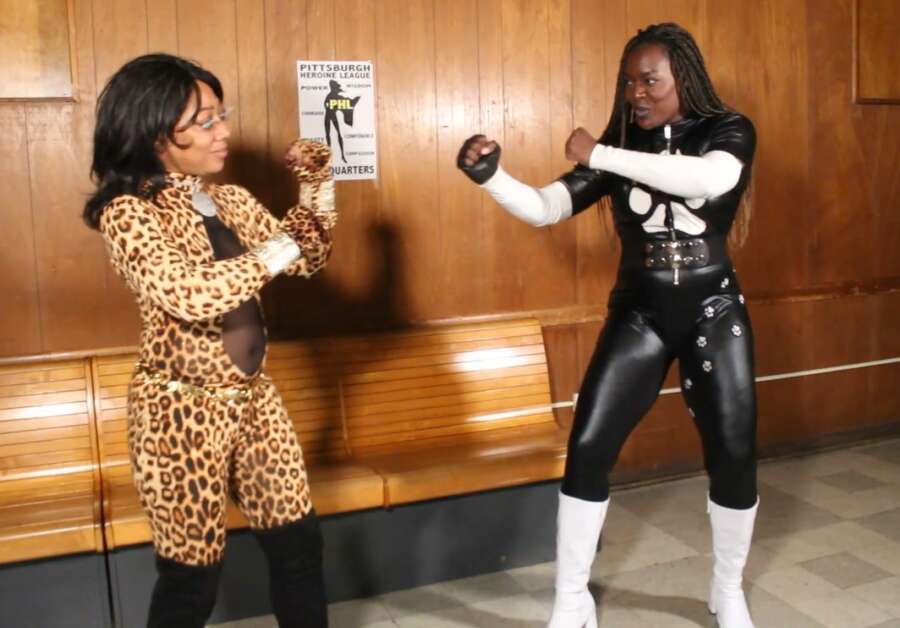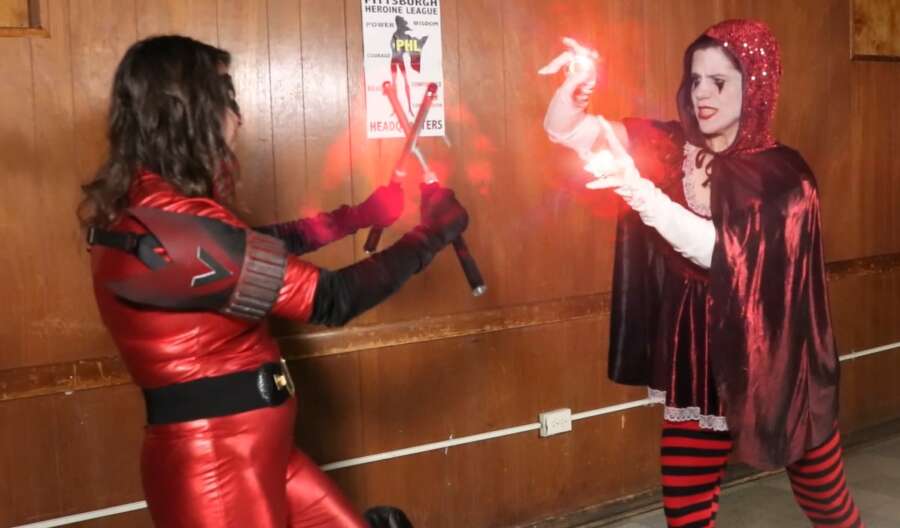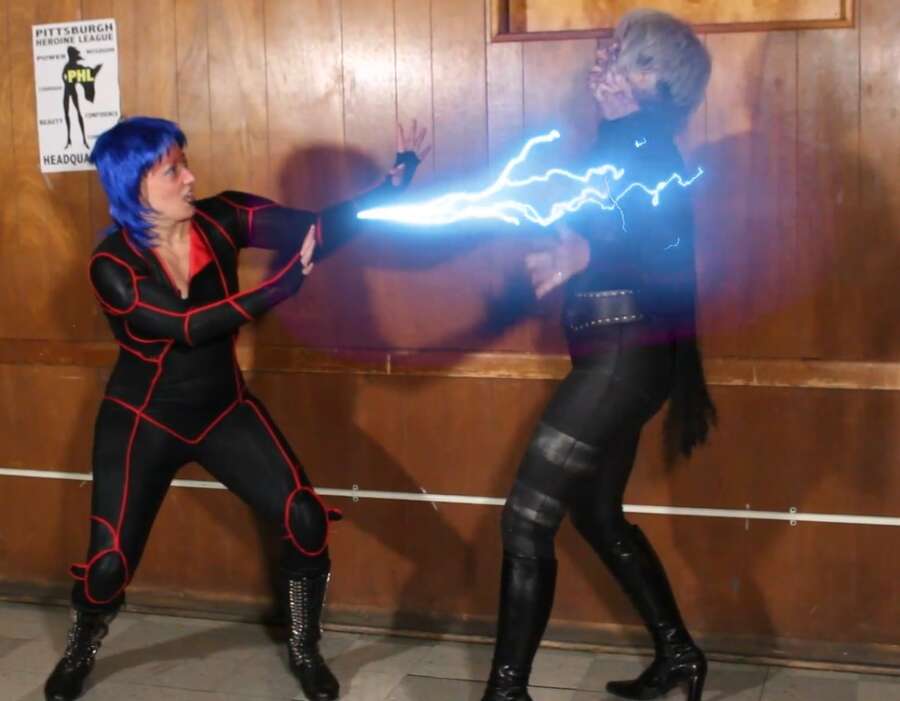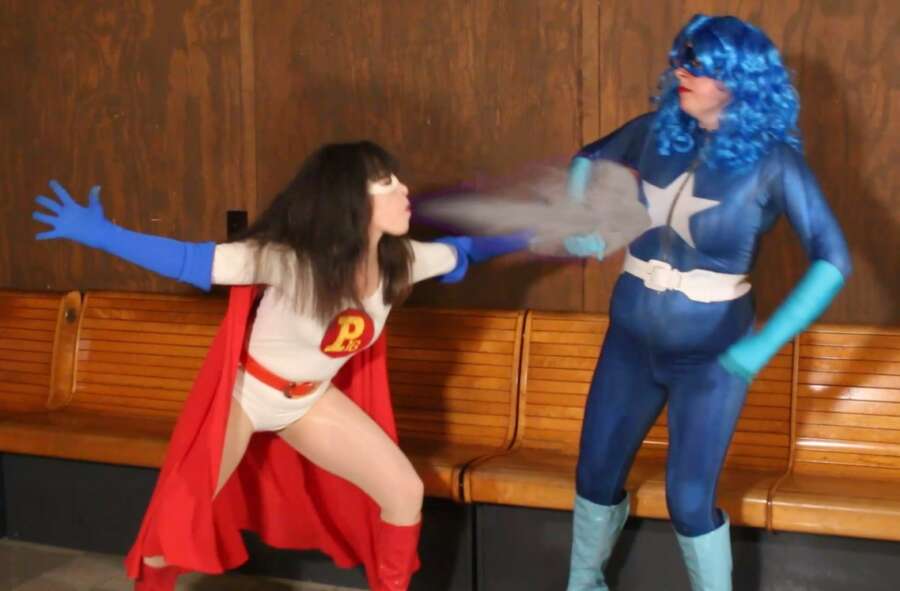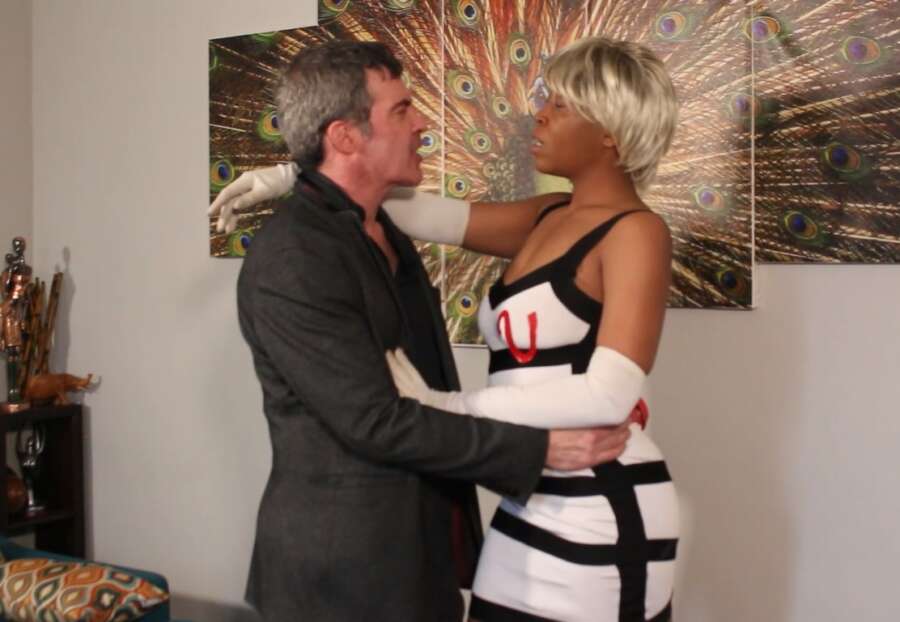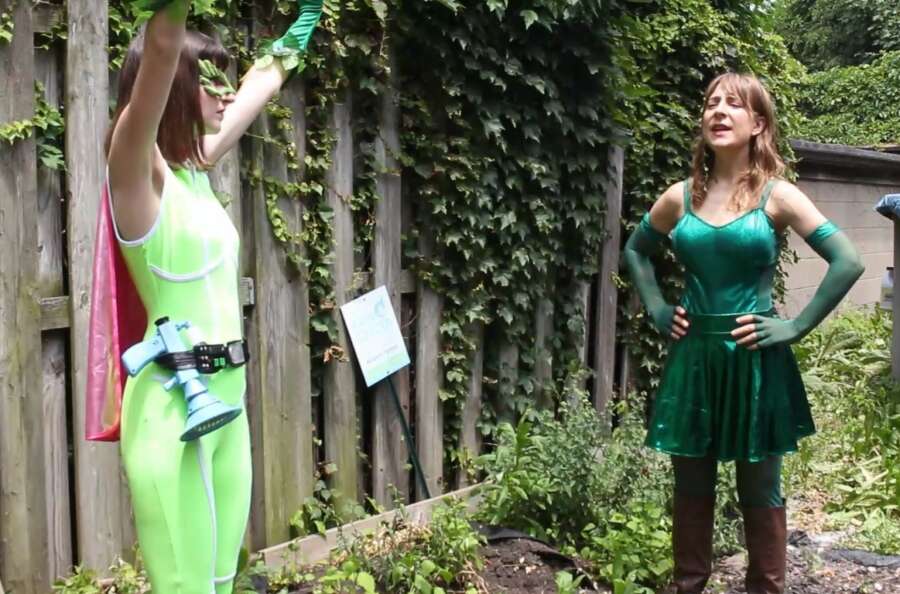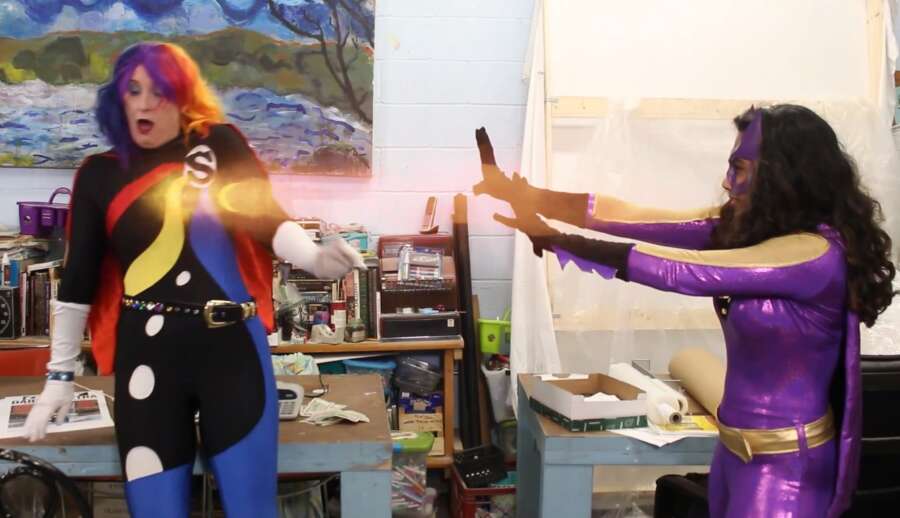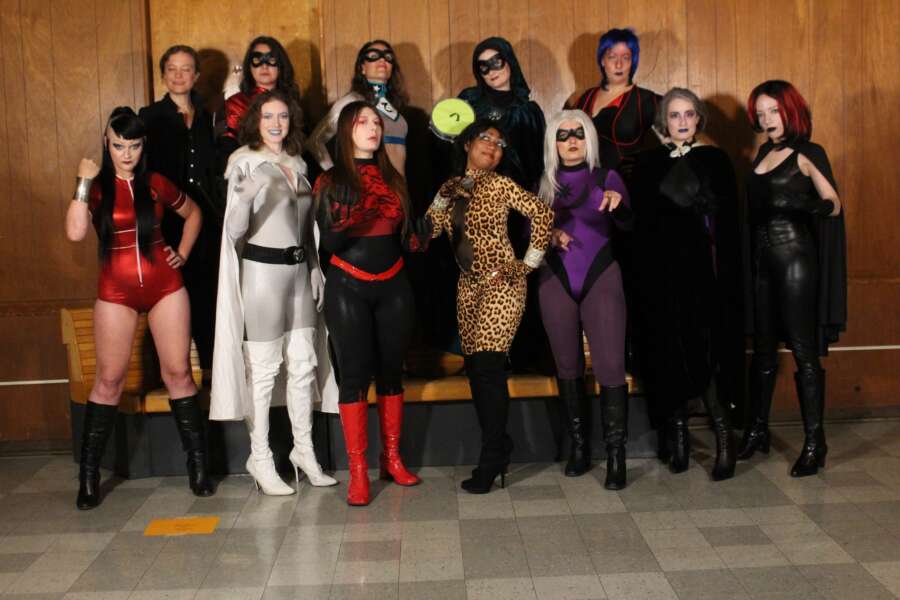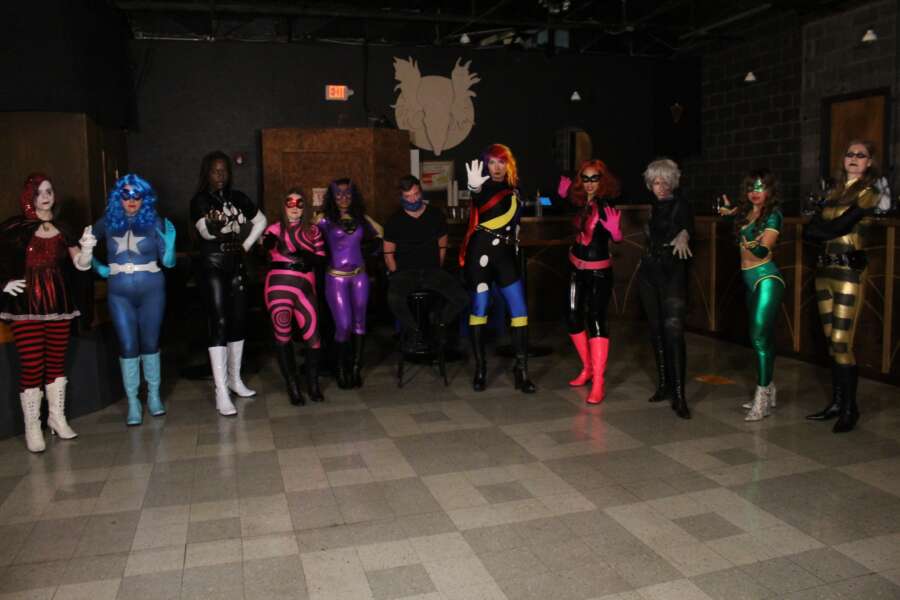 Not only is Heroineburgh Episode 21 available, but you can also pick up Heroineburgh Comics #3 with only one click by going to http://www.heroineburgh.com/comic-book-three/
Based on the live-action series, Issue #3 features two exciting original stories starring many of our popular superheroines and supervillainesses.
Story #1: Frija and Fianna come to the rescue of Savanna, who has been captured (along with her evil sister Panthyra) by the diabolical Chlorina for cloning experiments. Meanwhile, Cybrina and Indarra pursue the sexy supercriminal Fenneca the Silver Fox.
Story #2: Drake and Vaporia send Devorra the Queen Bee on a mission to cause chaos at a Pitt Panthers basketball game, and Poderosa, Devana and Gardenia rush to the scene to contain the mayhem. Meanwhile, Drake and Vaporia themselves invade Cybertech Systems, where Cybrina works as a programmer, to infect her and X-Machina with a nanotech virus that has a most unusual effect.
* 20 pages of high-quality paper with a glossy finish, featuring the dynamic drawings of Wayne Brown (Like Father Like Daughter) and Benjamin Zeus Barnett.
* Astounding all-villainess front cover by DC Comics veteran Jason Wright (Young Justice, Metal Men, Inglorious Rex, Starlight Cats, Green Lantern, Batgirl, etc.)
* Beautiful back cover pinups by Don Simpson (Megaton Man/Bizarre Heroes), Jamie Apgar, and Benjamin Zeus Barnett.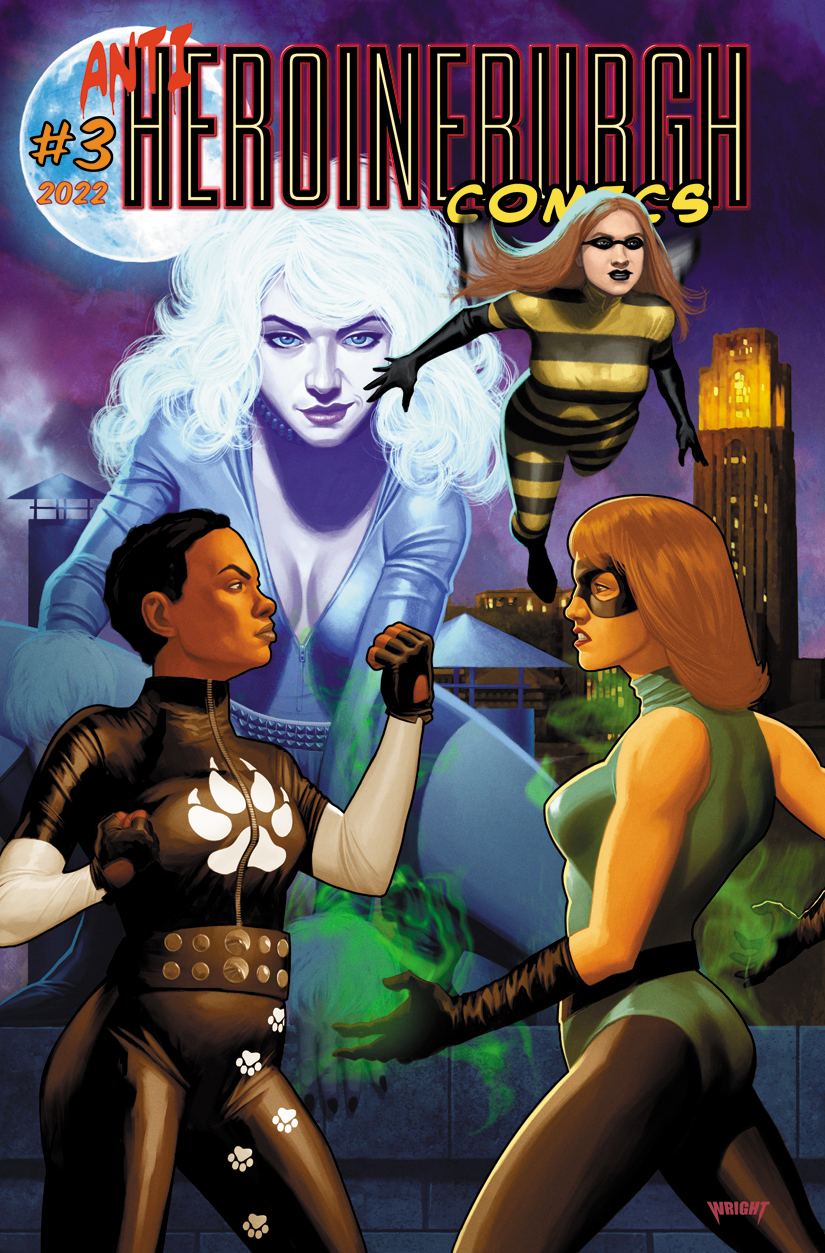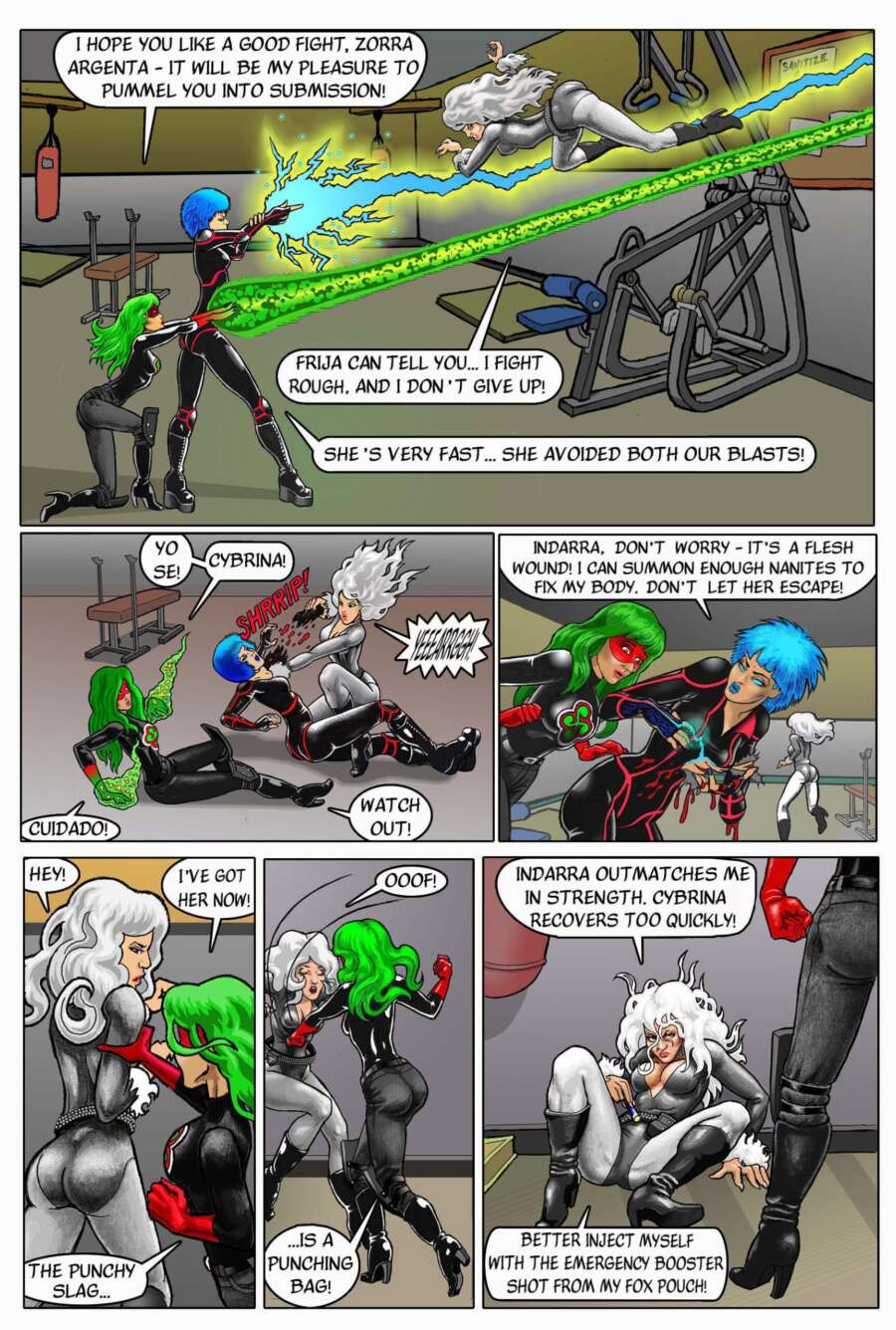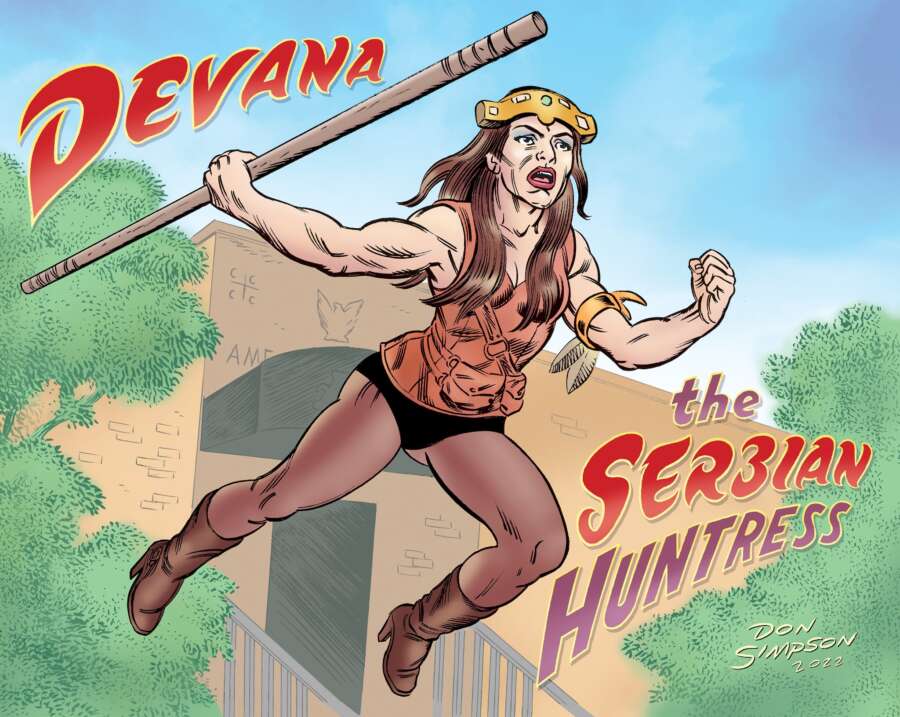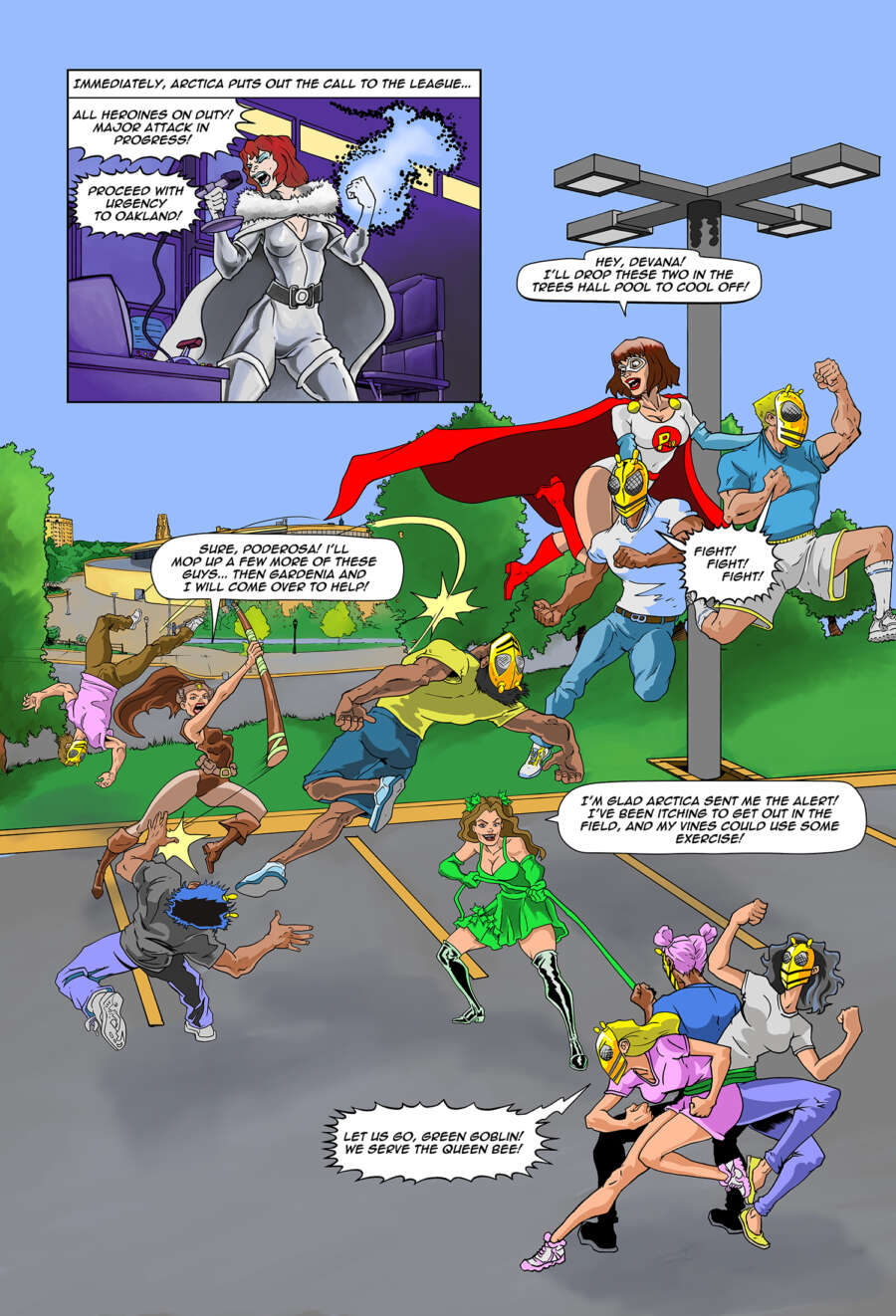 Yes, folks, http://www.heroineburgh.com is your one-stop shop for Episode 21, Issue #3, and all of our previous live-action episodes and comic book issues. And we're still taking orders for custom mini-sodes (seven customs fulfilled so far – check them out!) at info@heroineburgh.com . Hopefully, we'll also be vending at a Comicon near you in 2023 (we have plans to do at least a dozen conventions) where you can also meet one or more of our astounding actresses in person.
Heroines Assemble!