"Hostile Takeover: Supergirl vs Alien" from Anastasia Pierce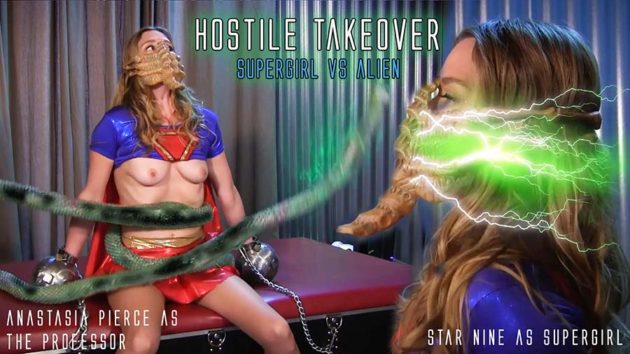 HOSTILE TAKEOVER, Supergirl vs Alien
HD MP4 – http://www.clips4sale.com/5196/21305929
SD MP4 – http://www.clips4sale.com/5196/21305931
Starring: Star Nine as Supergirl and Anastasia Pierce as the Professor
Summary: In the previous chapter (Project Supergirl) SETI (search for Extra Terrestrial Intelligence) Professor Zabrinsky "took" Supergirl under her wing for some aggressive research. Using electrodes and engineering, she mapped Supergirl psyche and performed several level of experimentation on her test subject. In this new chapter the professor is ready for something more radical to advance her research. She has stollen an alien form from the US Military lab and would like to test the subject on Supergirl. Supergirl is restrained in metal shackles. The alien creature will attach itself though Supergirl's mouth, insert itself down her throat and tentacles will grow out of it to surrender the helpless super heroine. The alien will be sliding around Supergirl like a giant snake.
Supergirl will use all her powers to fight the alien creature and the tentacles but she remains weakened by the Kryptonite the professor is radiating her in lag to subdue her.
An experiment like you have never seen before!!! A super heroine takeover by an Alien!!
Includes: Star Nine as Supergirl, Anastasia Pierce as the Professor, Original Super Heroine costume, helpless super heroine, Metal restraints, shackles, bondage, struggle, Alien experimentation, Special FX. Struggling,
Face fucker, Face Sucker, Lab experiment, tentacles, Kryptonite, physical challenge and take over, parody, cosplay, weak, aliens and monsters, Supernatural, Helpless, Insemination, Peril. No escape!
Book a custom video with Anastasia as your favorite Super Heroine Today!
Thank you to Rob info@flyingsuperheroes.com for your help with most of the special fx in this adventure!
If you are looking for someone to create awesome things for you, make sure to contact him.