"Immerse Yourself: with Vika" from Jacquelyn Velvets
Immerse Yourself: with Vika Part 1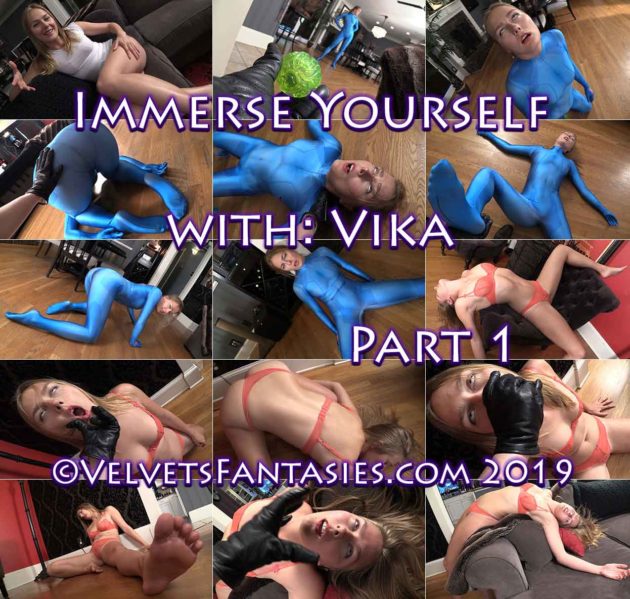 Our story begins with a knock at the door, and it's your brand new neighbor! She introduces herself as Vika, and she is a tall, beautiful blonde that wants to be more acquainted with everyone in her new neighborhood. You let her sit down, and are immediately taken by her stunningly beautiful body and striking features that you begin to loose focus on what she's talking about. She continually goes on and on about herself and you soon find that your imagination is getting the better of you, and we're suddenly given a view of the mind of what a sleepy fantasy would look like with this blonde bombshell.
There she stands in her skin tight blue "Zero Suit", unknowing what her strange sleepy fate has in store for her. First, you hide behind a wall and throw a flash bomb to daze her, but it proves to be too much for her to handle and she collapses in your favorite derrière position. You take liberties by caressing her spandex clad body, giving her a few light slaps on her raised behind, and then the sleepy barrage can begin. You wake her up by a shocking zap from a taser, and then show your strength to this once powerful Goddess by observing your dominance over her weakened state by fondling, undressing, and even letting her attempt to get a few hits in but ultimately her exhaustion gets the better of her proving that she can't handle you!
Once she's sprawled out on the couch in her delicate lingerie, you suddenly snap out of your day dream when she catches you not paying attention. Her rambling goes on however, and it's back to imagining what she would look like as Supergirl! Find out what happens in Part 2!!
This movie contains flash bomb KO, teasing taser KO, belly punching, head slam KO, punch KO, teasing hand smother KO, exhaustion KO, groping, dragging, body rolling, babbling, eye check, rag dolling, mouth play, limp limb manipulation
Purchase this video at VelvetsFantasies.com
---
Immerse Yourself: with Vika Part 2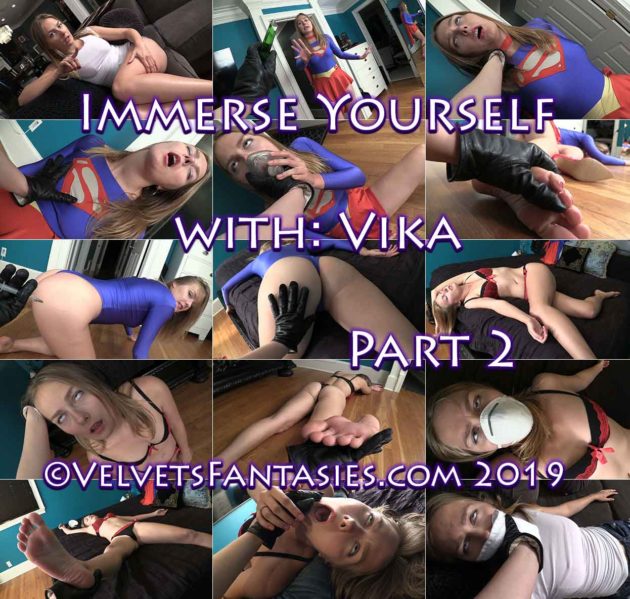 Continuing from Part 1, your lovely new neighbor Vika is still chatting your ear off about herself and once again you find your imagination getting the better of you. This time, your sleepy fantasy has turned Vika into the powerful Supergirl, and she comes charging in responding to a distress call. When Supergirl realizes who you are however, she quickly changes her tune and is prepared to not let you go without a fight. Unfortunately for her, she's no match for a hidden stash of kryptonite that you whip out and press against the mighty S on her chest. She instantly becomes weakened, and crumbles at your feet. Now with our super heroine subdued, you enjoying bringing her deeper into a state of unconsciousness with a gas mask KO, and an injection in her beautiful derrière, that proves she is finally ready to be undressed down to her lingerie.
When she awakens without her Super suit, she fights back thinking that despite all of the previous knockouts could ever have affected her her strength. When she attempts to take you down, you are happy to realize that THE Supergirl is no match for you, and you make the once powerful super heroine submit to you and your demands to repeatedly pass out, get fondled, and put on display in any way you choose.
The fantasy snaps back to reality when Vika catches you day dreaming again, and this time she scolds you for not paying attention. At this point in time, it becomes clear that there is only one thing left to do: a healthy dose of chloroform to make your fantasies come true! Welcome to the neighborhood, Vika! I hope you enjoy all the napping you'll be doing!
This movie contains kryptonite weakening KO, gas mask KO, syringe KO, neck chop KO, dust mask KO, exhaustion KO, teasing chloroform KO, butt slapping, groping, body rolling, babbling, eye check, rag dolling, mouth play, limp limb manipulation
Purchase this video at VelvetsFantasies.com