InJusticeGirl Part 2 from SHG-Media
To make a long review short, InJustice Girl Part 2 is probably the best SHG-produced video that I've seen.  I was actually surprised at how much I enjoyed it.  While some of the company's past efforts have been rather lackluster in my opinion, the company seems to have stumbled upon a winning formula here.  A few familiar technical flaws remain, but InJustice Girl Part 2 also features some genuinely clever filmmaking, a unique narrative structure, and a few pleasant surprises.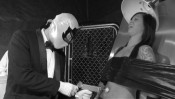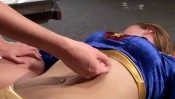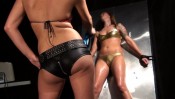 Rather than give a summary of the plot, I would like to point out a few aspects of the video that I really liked.  First, there are two separate but related storylines running throughout the video.  One involves Justice Girl being tortured by the evil villainess, "Dr. Terrorist."  The other involves Silver Fox fighting InJustice Girl on a beach.  The two storylines run concurrently as we cut back and forth between both sequences throughout the film.  This is a very clever narrative device, in my opinion.  Rather than focusing on one situation in one setting with one group of characters, the film gives us a lot of variety, in story, setting, and characters by switching back and forth between scenes.  This also raises the tension level by cutting away from the action in one sequence and joining the other sequence in progress, leaving us wondering what will happen in the scene we just left.
I also enjoyed the beginning of the video, which presents a brief recap in the form of stylized black and white footage with no audio other than the musical soundtrack.  This sequence is interrupted by a newscast (in which we are addressed as the television viewing audience), revealing that Justice Girl has apparently gone on a rampage and is terrorizing "Metro City."  (Of course, viewers of the original InJustice Girl know that the real Justice Girl has been cloned, resulting in an evil doppelganger who is responsible for the rampage.)  I thought this was a pretty clever way to set up the story, rather then the usual exposition with actors reciting dialogue to one another.
As for the rest of the video, the torture scenes are pretty good, and I especially enjoyed the beach fight between Silver Fox and InJustice Girl.  Some of the action is actually shot and edited in a pretty effective way, especially compared to past videos from SHG-Media.  The fight isn't exactly "believable," but it's entertaining and campy, and a lot of fun to watch.  (Hot girls battling it out in the water on a beach… what could be bad about that?)
Finally, there are a few details that surprised me, including a very clever edit at a specific point in the action, which serves as a transition between sequences.  Something like this might not be a huge deal to most viewers, but it's the kind of thing I enjoy in movies (all kinds, not just low budget superheroine flicks), and I certainly never expected this sort of thing from an SHG-Media production.  I also laughed at the "blood spurt," and at a couple of other places (sometimes perhaps at funny line deliveries, but the video is so much fun that it all somehow works in the end).
On the negative side, the movie isn't perfect, of course.  Some of the acting is really, really bad.  Those of you who have seen previous episodes with Silver Fox know that she's not exactly a natural in front of the camera.  But she looks great in her sexy outfit, and that's good enough for me.  In fact, the whole film is pretty "tongue-in-cheek" and humorous, and it all works really well, in my opinion.
Since SHG-Media started hiring outside talent to direct their videos, the quality has improved, even if it's still occasionally off the mark.  I have to give credit to the director, bpd, for delivering a really good heroine movie with InJustice Girl 2.  To me, it feels as though a lot of energy went into this production, both at the planning and shooting stages, and for a low-budget superheroine film, it's a lot of fun.